Green-fingered Engineers Dig Deep in Hawick
01 May 2019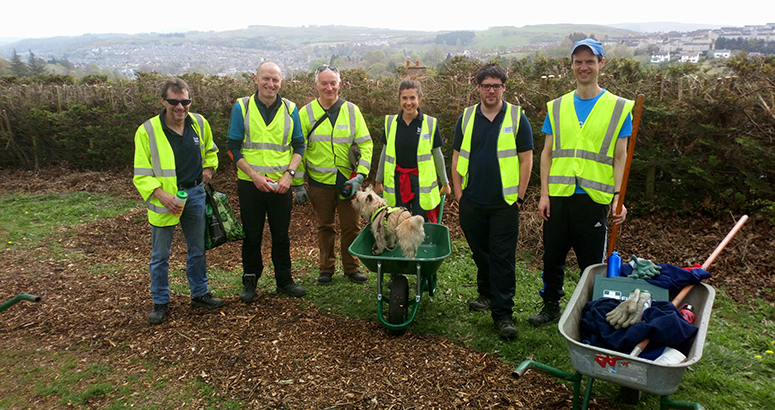 Community Volunteers
Six Scottish Water engineers, and Min the dog, work with charity trust Live Borders at Wilton Lodge Park walled Garden.
A group of volunteers from Scottish Water chipped in to help maintain one of Hawick's most prized visitor attractions.
Six engineers, and Min the dog, took part in a range of activities to help with the ongoing upkeep of the prestigious walled garden at Wilton Lodge Park.
They worked with Live Borders, a charitable trust dedicated to enhancing communities across the Scottish Borders by investing in sporting, cultural and leisure activities.
The enthusiastic team were delighted to help out, spending the morning shovelling, wheelbarrowing and raking wood chippings along a 200m stretch of path used by horses, walkers and cyclists.
Despite a tiring morning, the team dug deep using their technical expertise to re-engineer the vegetable patch, which was waterlogged and unproductive. They moved almost 8 tonnes of soil and clay by hand so the plot would drain efficiently.
John Lenehan, who was part of the six strong Scottish Water team, said: "This is the second time we have volunteered with Live Borders. We really enjoy our time working with them in the Walled Garden in Hawick.
"It's a beautiful location, providing a fantastic space for the local community and it's great for Scottish Water to be able to work with local communities to further improve the garden.
"We hope to return, as it's great for our own team morale and well-being too!"
Live Borders representative Lisa Bryson added: "Many thanks to the Scottish Water volunteers for all their help. It was a great day and the weather was much kinder this time compared with last time! You're all very welcome back anytime!"