Olympic Swimmer Takes a Dunk with Video Insights
02 February 2018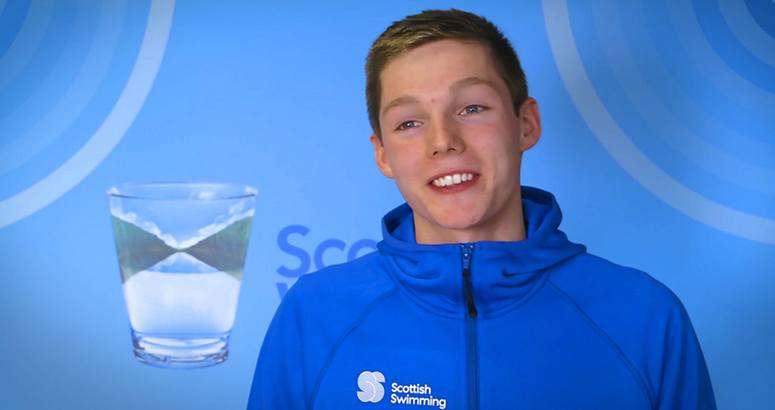 Daily Dunk
Catch Duncan Scott's insight in to his incredible training regime on his inspirational YouTube videos.
Olympic pool hero Duncan Scott is helping inspire a new generation to start swimming – even while he's undergoing a punishing training schedule to prepare for the Commonwealth Games.
The Scottish swimmer is one of the country's biggest medal hopes and has just spent four weeks in Australia as part of his extensive preparations for the games in April.
Duncan is the face of the innovative Learn to Swim programme, part of Scottish Swimming's National Framework, supported by Scottish Water, which aims to get more than 100,000 Scottish children undertaking regular pool lessons.
While the vast majority of his time is now being devoted to training and preparation, the athlete wanted to make sure he was still connecting with young fans – so has worked with Scottish Water to deliver a fun video project.
Duncan took time to record a series of lively and inspirational video messages to
share on YouTube
and other social media channels so that young hopefuls and other aspiring swimmers can get an insight into how he started swimming and what it takes to get to the top.
The videos are called the Daily Dunk, a pool-inspired title which also gives a nod to the record-breaking swimmer's
@Dunks_Scott
handle on Twitter, where he has almost 5,000 followers.
Duncan, an Olympic silver medallist who currently holds the British record for the 100m freestyle, said: "My training regime is so full on that I won't have much time for social media or anything else for that matter.
"I love being the face of Scottish Swimming's Learn to Swim framework, because it's brilliant to see kids getting so excited by being in the pool. So, I wanted to do something that would let me promote that even while all of my spare time is being devoted to training and preparation.
"Filming for the videos was a great laugh and there were some really funny questions. For instance, I never expected anyone to ask me how I spent the money I got back from my locker after a trip to the pool. I really hope people will enjoy watching and sharing these video snippets."
The videos also show Duncan sharing advice on how to train while still managing school work, his top tips for staying focused in the pool, as well as loads of fun trivia such as his favourite cheat meal and the music that best gets him pumped up before a race.
The Daily Dunk videos offer a glimpse inside the life and mind of the inspirational sportsman, as he candidly discusses more personal topics such as his own heroes and aspirations for the future.
The Learn to Swim programme is being rolled out across the country and has already been adopted by more than 17 Leisure Trusts and Local Authorities, and reached more than 50,000 children, thanks to a partnership between Scottish Swimming and Scottish Water
The Learn to Swim campaign is part of Scottish Swimming's National Framework that has the vision of eventually ensuring everyone in the country can swim.
Scottish Water helped produce the Daily Dunk videos and Brian Lironi, Director of Corporate Affairs, said: "We're proud to support the Learn to Swim programme and are thrilled to have such a fantastic role model as Duncan to promote it.
"The Daily Dunk videos really put across what a credit Duncan Scott is to Scotland and its sporting team and we're sure they will help inspire plenty of more children and young people to learn this absolutely vital life skill."
To catch up with the latest instalment of the Daily Dunk videos, simply visit
Scottish Water's YouTube channel
or
Facebook page
.