Great Glen Way Re-opens After Water Main Work
02 April 2019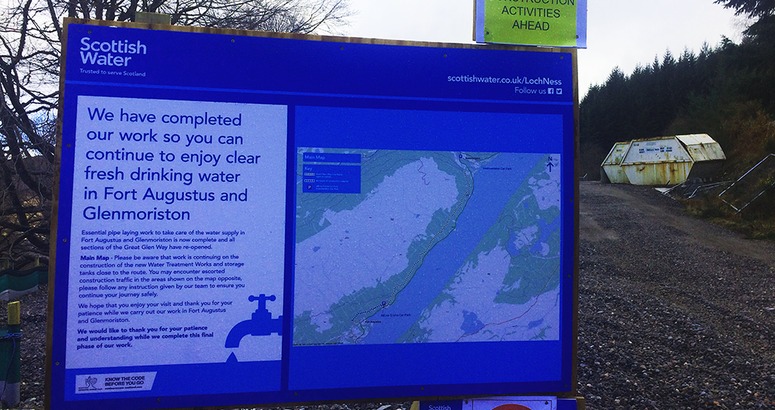 Installation of new water main complete
The route of the Great Glen Way has re-opened between Fort Augustus and Invermoriston
Sections of the long distance path have been closed in phases over the winter months to allow safe installation of a new water main, as part of a £21 million investment by Scottish Water to provide a single, improved water supply for around 1250 customers in Fort Augustus and Glenmoriston. The project, which is being delivered by Scottish Water's delivery alliance partner Efficient Service Delivery (ESD), will also cater for significant seasonal demand in the area from tourism.
Since work on the Great Glen Way began in December, a series of signposted diversions have been advertised for users of the path. During the phase of work with the longest alternative route, a shuttle minibus was also provided between Fort Augustus and the nearby Allt an Criche car park to provide an additional safe option.
Commenting following the re-opening of the route,
ESD Project Manager Kelton Bennett
said:
"Our team has worked hard to complete the phase of work with significant impacts on the Great Glen Way over the quieter winter months.
"We are very pleased to be able to re-open the full route ahead of the Easter period, when numbers on the Great Glen Way increase.
"There will continue to be some localised work taking place and some construction traffic using sections of the route over the months ahead. Our team have arrangements in place to keep users of the route safe while minimising disruption as far as possible. Information will continue to be displayed to let people know about the work that is taking place.
"I would like to thank local businesses and the community as a whole for their patience and support while we have been carrying out this phase of our project."
Scottish Water Corporate Affairs Manager Gavin Steel
added:
"A key goal of our investment is to ensure the water supply for this busy part of the Great Glen can meet the needs of tourism all year round.
"While investing to support the local economy for the long term, we also want to minimise any short term impacts of construction activity as far as possible.
"Through the community's input to our plans, water main installation along the Great Glen Way has been able to take place swiftly and safely over the winter months. The information, diversions and alternatives offered have worked smoothly, enabling route users to enjoy their journey through this spectacular landscape even while work was at its peak."