Scottish Water Volunteers Lend a Hand at Highland Hospice
02 May 2018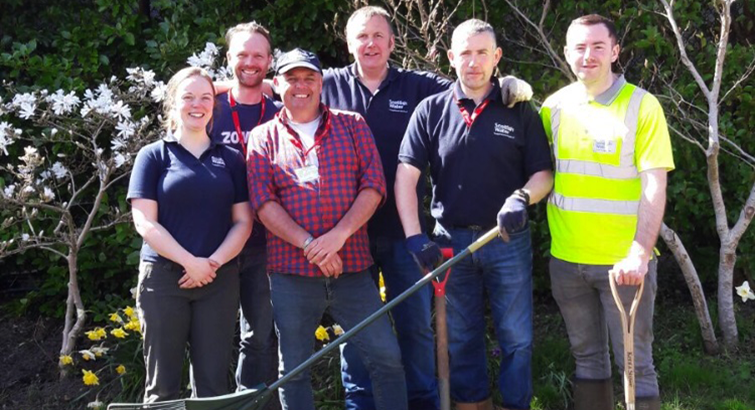 Lending a Hand
Scottish Water volunteers at Highland Hospice
A group of Scottish Water volunteers have lent a helping hand to an Inverness-based hospice charity, after spending a day clearing up a Highland Hospice garden.

The team of six helped remove rubble and weeds from the garden at the Netley Day Therapy Centre to allow landscaping to take place, as well as planting a number of trees.

The employees were taking part in Scottish Water's volunteer programme which supports those who wish to get involved in education, conservation or community activities – offering each employee two days a year for volunteering purposes.

Customer Connections Advisor, James Logie, was one of those who took part. He said:"This was the first time I'd used one of the volunteering days and I really enjoyed it. It was good to do something worthwhile like this, especially for Highland Hospice, when the chances are that someone you know will need the support it provides.

"We got a great day for it and were well looked after by everyone there. It was a productive and nice way to give a bit of time back to a really worthwhile cause."

Head of Fundraising and Development at Highland Hospice, Andrew Leaver, said:"We were delighted to welcome the volunteers from Scottish Water. Although only the first stage in our landscaping project they worked really hard and transformed it from a building site to a recognisable garden.

"The scheme is a great benefit to charities like ours and the team were first class."