Tunnelling Team Shift 90 tonnes of Earth Hand Digging Edinburgh Sewer
02 May 2018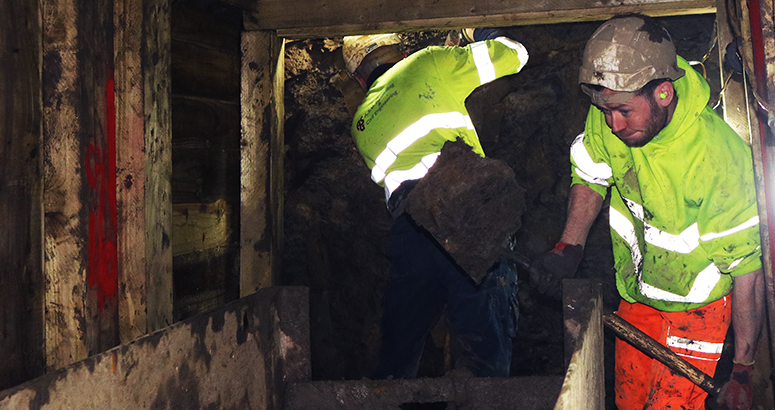 Edinburgh Sewer Challenge
Tunnellers hand dig 90 tonnes of debris out of 20m stretch over two weeks as new sewer project makes progress at Haymarket, Edinburgh.
Watch our video here
Two tunnellers have helped Scottish Water progress a major new sewer beneath Edinburgh by hand digging 90 tonnes of debris.
The century-old sewer under Haymarket Terrace was built by Victorian water pioneers in the capital but is now being upgraded to meet the city's modern needs.
And while high-tech equipment is being used on the project, a challenging section required a more hands-on approach with the pair- Gerard Boyce and Thomas Peoples - using tools to literally dig their way through a 20-metre stretch.
Working over a two week period in a trench beneath Haymarket, one of the busiest transport hubs in the capital, the two men shovelled between 6 and 9 tonnes per day.
The busy junction outside Haymarket Station was hand tunnelled to avoid damaging a complex web of utility infrastructure such as electricity, gas, telephone lines and broadband.
Scott Fraser, Scottish Water's corporate affairs regional manager, said: "The original sewer was built by Victorian engineers using old-fashioned methods. Whilst we're using a range of high-tech solutions to help progress this vital work to upgrade the sewer at Haymarket, we've had to use those same basic tunnelling techniques as the Victorians to clear this particular section.
"The £2.5m work at Haymarket is one of our most high profile projects due to its busy location and the small, challenging work site. This unique environment means we are using traditional techniques combined with modern technology, to efficiently tunnel under a section of road with a large number of vital utilities, which if damaged could impact local residents and businesses.
"The two tunnellers used modern equipment such as gas detectors, laser technology and hydraulic drills to cut the rock face whilst the earth was then shovelled by hand into a traditional cart on rails, which was then lifted by crane back onto the surface."
ASG Tunnelling & Civil Engineering Services are one of the few firms where hand tunnelling skills have been handed down from father to son over generations. Scottish Water has employed their services for their unique expertise, to precisely hand excavate sections of tunnel where tunnel boring machines are not appropriate for the terrain conditions.
John Doherty, Managing Director of ASG Tunnelling & Civil Engineering Services, said: "We are one of the few remaining family run firms that have the knowledge and experience to take on these hand tunnelling projects.
"I'm extremely proud of hand tunnellers Gerard and Thomas who have completed this work in challenging conditions due to the confined space underground and the sheer number of utilities we encountered and had to work around to get the section completed."
The sewer upgrade at Haymarket Terrace aligns closely with Scottish Water's future ambitions on delivering reliable, resilient and sustainable water and waste water services which are the cornerstones of our ongoing Shaping the Future consultation.
Communities throughout Scotland are being asked to help shape water and waste water services in a nationwide consultation – Shaping the Future – which can be completed online at
www.yourwater.scot