In With the Old and Out With the New on Greenock Flooding Project
20 September 2018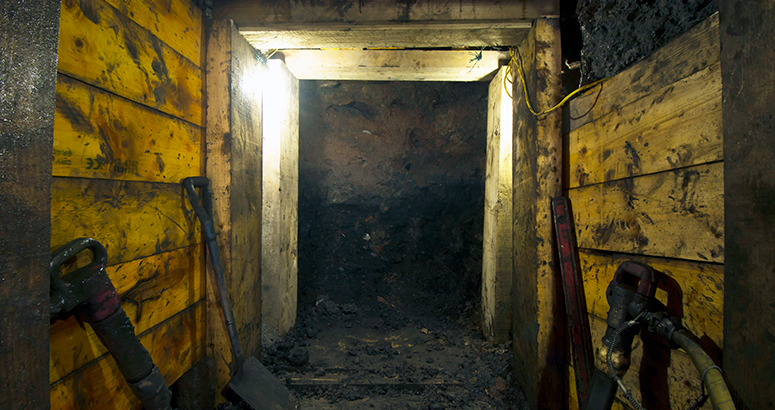 Back to the Future
Engineers had to return to traditional methods to hand dig tunnel after encountering challenging conditions.
Scottish Water's £2.8m investment project to help reduce the risk of flooding in and around the Oakmall Shopping Centre in Greenock has turned to more traditional tunnelling methods during its latest phase of work.

Amey Black and Veatch (aBV) are delivering the project on behalf of Scottish Water and called in Northern Tunnelling to hand-dig tunnels totalling 26 metres in length.

Engineers tunnelled under the roadway from a section of the B&M car park on Inverkip Street across to High Street roundabout. A stretch within the car park was also excavated by hand.

In both cases, difficult ground conditions meant the more modern method of tunnelling with a guided tunnelling machine wasn't possible. This method had been used on earlier phases of the project to help keep disruption to a minimum for the local community and road users.

Scott Henry, project manager with aBV, said: "The hard, rocky ground meant that we had no alternative but to return to traditional methods and use hand operated tools like picks and shovels to do the excavations.

"It was really hard work for the tunnellers. They've removed approximately 115 tonnes of debris comprising mainly of reinforced concrete, brickwork foundations, sandstone and whinstone rock."

Ruaridh MacGregor, Regional Corporate Affairs Manager, Scottish Water, said: "Tunnelling during this phase has taken much longer than expected due to the fact that the tunnels had to be dug-out by hand. This was unavoidable and we do appreciate that the associated road traffic management has caused some frustrations for local businesses and road users. We thank those who have been affected for their patience and understanding."

Paul Milligan, communications manager with aBV echoed those sentiments. He said:

"We've worked closely with local businesses, keeping them updated on the work and we'd really like to thank them for engaging with us and for their understanding throughout. Once completed, this work really will benefit the local business community by helping to minimise flooding.

"We'd also like to thank Paul Bonthron, a site agent from Northern Tunnelling who has supplied us with some fantastic shots of the tunnelling on this project. With the work taking place underground and out of sight, his photographs really do help illustrate the full extent of what's been carried out here."

It is estimated that the four-way traffic light system which is currently in operation on the A78 at High Street roundabout will be removed week beginning 12th October.