Scottish Water Apprentice Katie Encourages More Young People to Apply for MA Scheme
06 March 2018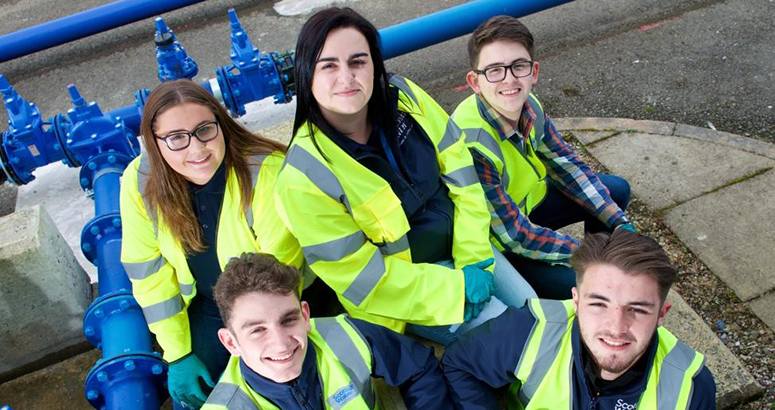 Bright Young Stars
This year Scottish Water hopes to recruit 50 talented apprentices to develop the skills and people needed to create future sustainable water and wastewater services in Scotland.
An apprentice water operative with Scottish Water is urging more young people to consider applying for the Modern Apprenticeship (MA) scheme as Scottish Apprenticeship Week takes place across the country.
Katie MacLennan (22), from Fort William, joined Scottish Water last summer as a Modern Apprentice (MA) in the Lochaber East area.
Her role involves helping to keep water running and up to a high standard at four sites around the area, visiting them twice a week to carrying out checks and scheduling tasks, as well as dealing with any other issues that might arise.
"After a few years of jumping between winters in the Alps and summers in restaurants I was definitely ready to learn something new, take on a new challenge and use my brain again," Katie said. "That's what made me apply for the MA with Scottish Water.
"Given the number of Scottish Water vans that you see on the road, I thought if they employ that many people they must be a good company to work for!"
Talking about what she enjoys about the role, Katie said: "I like the fact that you get to travel about, that no two days are the same, and that you spend lots of time out and about in the fresh air.
"You can't really fault Scotland - it is always giving the views despite whatever the weather is throwing at it."
Katie added: "When I first started I had the fear that I would never in a million years be able to understand what was going on. Sometimes I still feel like that, but I'm picking more and more up every single day - it's fitting together like a massive complex jigsaw.
"I would 100% encourage more girls to apply for an operational role like mine - there isn't really any reason why we can't do the job once we are trained just like boys.
"I have never felt there to be an issue in my eight months with Scottish Water, other than the girls' polo shirts being tiny - but then again you can't have everything!
"My advice to anyone considering an MA would be just to go for it – just fill the application out, you might regret it if you don't."
Paul Campbell, Head of Learning and Organisational Development at Scottish Water, said: "Apprenticeships are a fantastic way to start a career in Scottish Water and we use a wide range of apprenticeships as part of our strategy to attract the talent we need for the future. Our apprentices are highly valued members of the Scottish Water team and they bring new perspectives, energy and fresh ideas into our business.
"This year we are hoping to recruit a minimum of another 50 talented apprentices across the length and breadth of Scotland, building for the future and helping us develop the skills and people that we will need to create sustainable water and wastewater services in Scotland for many years to come."
Find out more:
www.scottishwater.co.uk/about-us/careers/modern-apprentices
.