Kained Back Scottish Water Campaign to Help Hydrate and Cut Waste
06 December 2018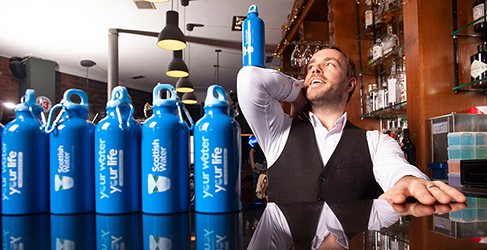 Kained Holdings estates director Mo Clark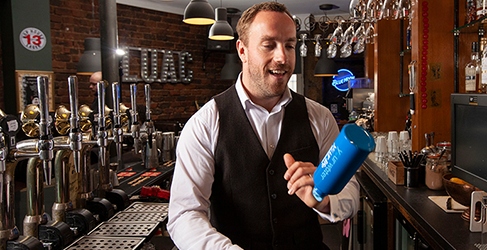 Kained Holdings are happy to offer water top ups
Restaurant and bar group Kained Holdings has become the latest to back Scottish Water's campaign to encourage people to top up from the tap.
The company, behind Lebowskis, The Finneston and Porter & Rye venues, promoted they are happy to offer tap water refills to people passing their venues, in support of the Your Water Your Life drive.
Research shows 86 per cent of people in Scotland agree there should be more locations that offer easy access to water, yet currently less than a third (30 per cent) would be happy to go in to a café and ask for their bottle to be filled – something the campaign aims to change.
Throughout December, Scottish Water will be highlighting the benefits of topping up from the tap during the festive season, encouraging people to stay hydrated on the go for the benefit of their health, their pocket and the environment.
Mo Clark, estates director, Kained Holdings, said:
"We regularly get passers by coming into our venues asking for their water bottles to be filled, and are always happy to help out.
"We're lucky in Scotland to have such good drinking water, and making it easier for people to refill their bottles when they're out and about can only be a good thing in terms of cutting down on single use plastic and helping the environment."
Fairmont St Andrews also recently announced its intention to replace disposable water bottles in its rooms with specially designed refillable glass bottles, to help make tap the first choice of its guests.
The utility has encouraged other businesses to get behind the campaign to help create a positive shift in the way tap water is consumed in Scotland.
Brian Lironi, director of corporate affairs, Scottish Water said:
"It's great to see businesses helping encourage more people in Scotland to top up from the tap, by proactively offering water top ups in their premises.
"We're investing in creating a network of Top up Taps across the country to make refilling on the go easier, and working with businesses to widen access to drinking water will undoubtedly help drive a change in culture where topping up becomes common place."
For further information visit
yourwateryourlife.co.uk