Kids Carve Out Fun in the Playground
08 May 2019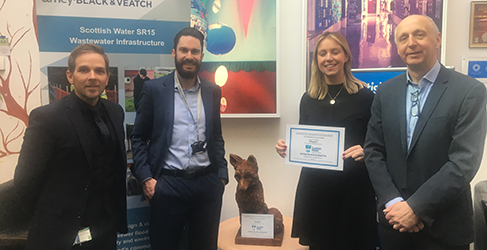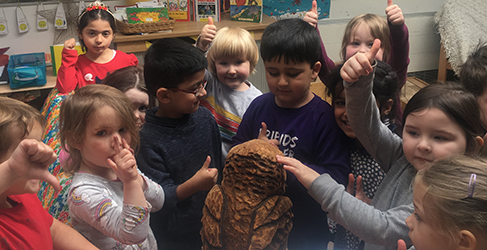 A fox and a kingfisher are causing quite a stir in Glasgow's West End as new features in the grounds of Hillhead Primary School and Kelvin Park Early Year's Nursery.
Scottish Water and its alliance partner amey Black and Veatch (aBV) have donated the beautiful wooden carvings to the children as part of an ongoing multi-million pound investment project in the area.
Trees4Scotland were commissioned to carve the creatures from the stump of a tree which had to be removed from the school grounds to make space for improved waste water infrastructure.
Presenting the children with the creations, Paul Milligan, aBV Communications Manager, said: "It's been brilliant working so closely with all the staff and children at the school and nursery, keeping them up-to-date with this project that's happening on their doorstep, teaching them about the water cycle and helping to fuel their interest in engineering."
Scott Aitken, a European director at Black and Veatch, and a former pupil of Hillhead Primary, joined Paul on his visit. He said: "It was great to be able to return to my old school and not only present them with these wonderful carvings, but also talk a little about my career in engineering. It's taken me around the world and right back again to my childhood roots in the west end of Glasgow.
"It's really important that we can engage with children at this age and hopefully, in some small way, give them an insight into the exciting opportunities in engineering and allow them to connect with such a great project right on their doorstep."
Once complete, the project will help improve the environment in and around the River Kelvin. Improved infrastructure will help stop items which are wrongly flushed down the toilet – items like rags, baby wipes, plastic cotton buds, etc. - from overflowing into the River Kelvin during severe storm events, and reduce the frequency and volume of waste water spillages in storm conditions.
The project is expected to be completed by the end of summer 2020.
More about this work to improve the overall environment of the River Kelvin for aquatic life, flora and fauna can be found at: River Kelvin.