Celebrating the 1st Anniversary of the Skills Strategy
09 February 2018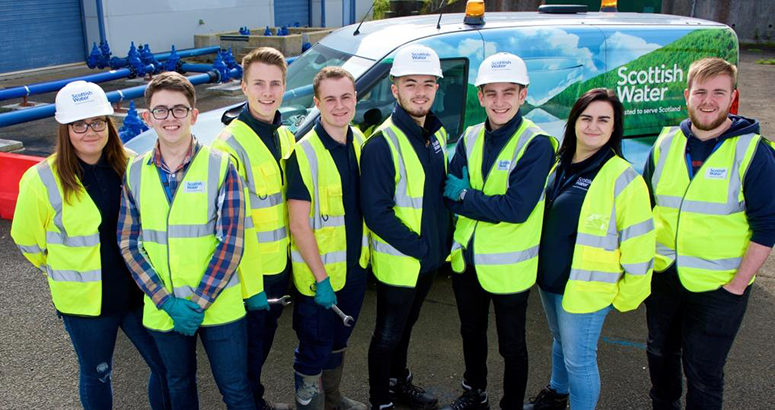 Skills Partnership
New partnership will help  ensure a safe, skilled and sustainable workforce is in place to support the strategic plan for the UK's national infrastructure delivery pipeline.
Scottish Water is among 29 leading organisations – the Energy & Utilities Skills Partnership – that have developed the Workforce Renewal & Skills Strategy.

Released in February 2017, the Skills Strategy is the first-ever coherent strategic plan for the continued delivery of clean water, waste removal, power and gas to 65 million people every day across Scotland, Wales, England and Northern Ireland.

The energy and utilities sector is responsible for the largest share of the national infrastructure delivery pipeline, so its success is vital to the productivity and growth of the UK economy.

Scottish Water is working hard with its fellow Skills Partnership members to "ensure a safe, skilled and sustainable workforce provides the essential services that our customers seek and which meets the UK's needs from the energy and utilities infrastructure."

During the last year Scottish Water has been working hard to deliver our Integrated Talent Management Strategy, delivering a range of initiatives that align with the aims of the Workforce Renewal and Skills Strategy, including:
Supporting the development of over 147 apprentices from across the full spectrum of the apprenticeship family in Scotland.
Supporting the development of 46 graduate trainees within Scottish Water and being recognised as a "gold level" Investor in Young People
Facilitating job opportunities for a further 100 apprentices and graduates with our supply chain partners
Working in partnership with our supply chain partners (George Leslie Ltd, Amey Black and Veitch, and WMG Engineering Ltd) as part of our £250M investment to upgrade Glasgow's wastewater system to promote Science, Technology, Engineering and Maths (STEM) to selected Scottish High schools and to attract the next generation of talent into the sector
Supporting undergraduate internships in STEM alongside high school level internships with Career Ready Scotland to create new talent pipelines and entry routes into the sector.
Utilising Talent Source Network (TSN) as a digital interface to promote 146 new job opportunities, developing materials to attract new and diverse talent into the sector and encouraging almost 2,000 people to register themselves in the TSN talent pool.
Championing the need to increase diversity within the utilities sector and resulting in Scottish Water being recognised with the 'Diversity in the Public Sector' Award at the Herald and GenAnalytics Scottish Diversity Awards.
These achievements are important due to the challenges the utilities sector faces. Energy and Utility Skills suggest that within a decade almost 20% of the sectors 500,000 employees could retire, with many of these roles needing to be replaced and with an anticipated 221,000 new people being required UK wide by 2027 in order to create a sustainable and resilient workforce. Reports also suggest that the utilities sector is facing a further skills challenge: with 36% of its vacancies proving hard to fill due to a lack of skilled applicants. This is the highest percentage across all sectors in the UK; the average is 23%.
New talent entering into the sector will require new types of skills and attributes as utilities in the UK seek to introduce new technologies and deliver innovative solutions and designs to meet the emerging needs of customers, the environment and the changing world of work. In Scottish Water our strategy is intended to attract and develop the diversity, talent and skills we will need to deliver an innovative, green and sustainable water and wastewater service for many years to come.

The Workforce Renewal & Skills Strategy also highlights a current lack of diversity within the sector, suggesting that the composition of the water industry's 53,500 UK workforce reflects the wider sector overall in that it is overwhelmingly male (73%) and with just 5% of employees being from Black, Asian or other minority backgrounds. The Skills Partnership is working to address this and to build a more diverse and inclusive workforce through a range of initiatives including:
A diversity and inclusion membership forum where Skills Partnership members share best practice.
Talent Source Network (TSN) (add link) where 20 Skills Partnership members (including Scottish Water) are offering hundreds of vacancies, including apprenticeships, on the sector's digital platform, together with careers guidance and case studies featuring the experiences of a diverse mix of new starters, recent recruits and senior professionals.
Scottish Water's Chief Executive Douglas Millican said: "Our vision at Scottish Water is to be trusted to care for the water on which Scotland depends.

"We have participated in the Energy and Utility Skills Partnership as we are committed to attracting and developing talented and skilled people who can be trusted by our customers to deliver the vital and sustainable water and wastewater services that will be needed by the people of Scotland well into the future.

"The utility sector and the world of work more generally are changing and Scottish Water is striving to create an adaptive, diverse and talented multi-generational workforce. We have extended our apprenticeship programmes across the full apprenticeship family in Scotland, utilising foundation apprenticeships for young people in the senior phase of school, modern apprenticeships as an entry route into our business and graduate apprenticeships as a means to developing our existing employees. We have also supported the development of Energy & Utility Skills Talent Source Network as part of our ambition to attract talented new people into our sector.

"I welcome the first anniversary and commend the strategic intent of the Energy and Utilities Workforce Strategy 2020 after a successful first year".

The Skills Strategy in action: watch the video

Join the dialogue on social media: search for #2020skills on Twitter