Major Investment to Provide New Water Supply
09 May 2019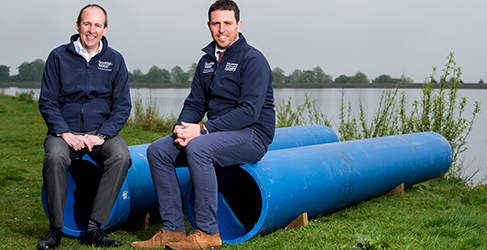 Paul Sexton, alliance management general manager and Graham Waley, senior project manager at Scottish Water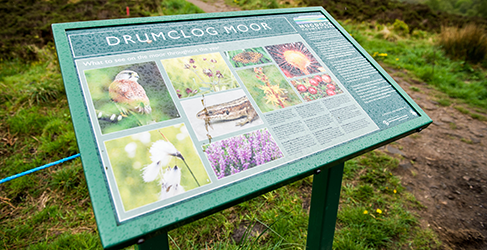 Watch our video to find out more about this major £30 million investment project
A £30 million project to improve services to more than 54,000 people in parts of Bearsden, Milngavie, Clydebank and Strathblane is set to begin.
This major investment will change the source of the water supply from Burncrooks Water Treatment Works (WTW) in West Stirlingshire to Milngavie WTW in East Dunbartonshire.
The works will involve the installation of around 8 miles of new water main, the transfer of supply to Milngavie WTW and the decommissioning of Burncrooks WTW.
Burncrooks WTW, in the Kilpatrick Hills near Strathblane, was built in the late 1950s and has served the area well. But it's reaching the end of its working life and is not suitable in the long-term to meet stringent water quality standards.
The state-of-the-art Milngavie WTW was opened in 2007 and already serves about 700,0000 across much of the Greater Glasgow area.
The investment in Scottish Water's infrastructure will ensure customers in the north of Bearsden, parts of Milngavie, Strathblane and Blanefield, Faifley and a large part of Clydebank receive the highest quality drinking water for many years to come.
The investment will also enable Scottish Water to supply customers with water from more than one WTW which will provide improved resilience and reduce the risk of disruption to normal water supplies.
The work will be carried out for Scottish Water by its alliance partners Caledonia Water Alliance (CWA) and is expected to take around two years to complete.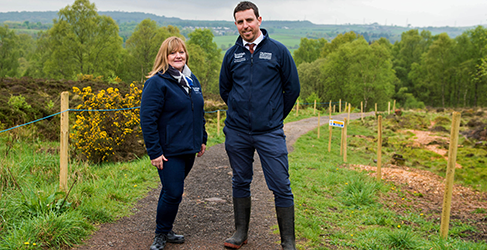 Jane McKenzie, communications manager, and senior project manager Graham Waley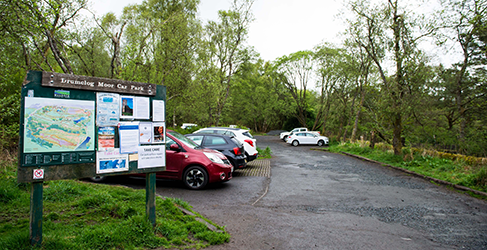 Short term temporary closure will be in place at Drumclog car park this summer
The main 4.3 miles section of new plastic twin-pipe water main will be installed from Bankell Service Reservoir in the east, to Baljaffray Service Reservoir in the west, following a route up part of Strathblane Road, west along the north of Craigmaddie Reservoir, round the north and west of Mugdock Reservoir, down Mugdock Road to Drumclog Car Park.
It will continue across the south of Mugdock Country Park, crossing the West Highland Way over the Allander Water near Clober, crossing the A809 just south of Craigton village, to Baljaffray Service Reservoir.
The total of 8 miles of water main will also include a second stretch of 3.5 miles of 250ml pipe, to be installed from near Baljaffray to Carbeth, where it will connect to the existing network.
This new plastic main will replace an existing stretch of old 21 inch main, which has a history of bursts, and will provide improved security of supply.
More than 80% of the pipe route will be installed on private land, rather than under public roads and footpaths, to reduce inconvenience to the public.
Paul Sexton, Scottish Water's alliance management general manager, said: "We are delighted to be starting this important project which will benefit more than 54,000 customers for many years to come.
"Switching supply from the ageing Burncrooks Water Treatment Works to the state-of-the-art Milngavie WTW will enable us to continue providing high-quality water to thousands of domestic properties and businesses and a large number of public buildings including more than 30 schools in three local authority areas and hospitals such as the Golden Jubilee in Clydebank."
Roseanna Cunningham, Cabinet Secretary for Environment, Climate Change and Land Reform, said: "I welcome Scottish Water's announcement of £30 million investment into the drinking water infrastructure for parts of the Bearsden, Milngavie, Clydebank and Strathblane areas, which will secure a high-quality water supply into the future.
"Importantly, the installation of new pipes will also improve the resilience of the network and security of supply so this is great news for the tens of thousands of customers in these areas."
Several other alternative routes for the pipe were considered, including through more built-up areas of Milngavie and Bearsden, but this route was selected for a number of reasons, including minimising disruption.
A new pumping station will be constructed at Bankell to pump the water along the new water mains.
Jane McKenzie, communications manager with Scottish Water, said: "The installation of a stretch of the new water main will require the temporary closure of the Drumclog car park on Mugdock Road for a short period this summer and some temporary diversions of footpaths.
"We are exploring the possibility of alternative car parking in the surrounding area. We recognise that the temporary closure of the car park and footpaths will cause some inconvenience but would remind affected customers that our substantial investment will benefit more than 50,000 people for generations to come."
Councillor Billy Hendry, Convener of East Dunbartonshire Council's Place, Neighbourhood & Corporate Assets Committee, said: "Visitors to Mugdock Country Park should be aware that there will be some disruption to areas of the park, including Drumclog car park. This is unavoidable but temporary and we have assurances that the disruption will be minimised as far as possible.
"Scottish Water has been liaising with us through the planning and implementation stages of this development and we would like to thank our visitors in advance for their understanding as this major infrastructure project is carried out."
For more info visit our project page: Burncrooks Water Improvements