Tankers Used to Keep Scotland's Water Flowing this Summer
10 July 2018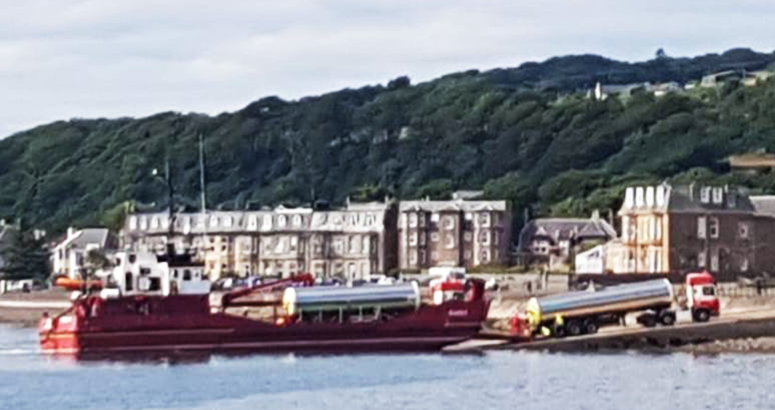 Tankers deliver vital supplies to Arran
Tankers carrying 30,000 litres of water keep Scotland's water supplies flowing during the prolonged dry weather.
Up to 30 water tankers a day are currently being deployed across Scotland in a round-the-clock operation to keep the country's supplies flowing.
The vehicles carry up to 30,000 litres of water and are being sent to areas where more water is needed as a result of the prolonged dry period of weather and high usage levels.
Customers are being urged to use water wisely during the summer by taking simple but important steps to reduce usage levels. Scottish Water has seen a 30 per cent increase in usage levels in parts of the country this summer and demand remains significantly higher than normal. An additional 140 million litres is currently being produced and pushed through the system every day.
Tankers are adding water to the parts of the network where usage is particularly high – notably in areas which have been hottest and driest or where there has been a surge in visitor numbers.
The Scottish Water and contractor teams operating the tanker fleet are working 24/7 to transport and maintain supplies, with their precious loads either being put straight into the water mains or into storage tanks at water treatment works to supply networks. And a fleet of smaller-sized tankers has been utilised to transport water to keep larger tankers topped up.
One of the biggest tanker operations to date has been carried out in Arran where Scottish Water has added three quarters of a million litres into the network in the last few days. More than 25 tankers have travelled to the island from the mainland on ferries – including some specially commissioned by Scottish Water and on some CalMac services - to ensure residents, businesses and visitors continue to have access to clean, clear drinking water.
Tankers have also been used to increase water supply in parts of Moray, the North East and Dornoch in the Highlands.
Scottish Water is continuing to urge people across Scotland to use water wisely this summer. Peter Farrer, Scottish Water's chief operating officer, said: "We are working around the clock to maintain supplies during this period of very warm, dry weather which is having an effect on the amount of water people are using for a wide range of purposes. Our tanker operations are an important part of our response to the current challenges.
"We remain absolutely focused on ensuring Scotland's water supplies are maintained and protected but I would repeat the call to customers to work with us to achieve this.
"We have seen unprecedented increases in water use across the country where there has been very little or no rainfall for weeks and our teams are working at near capacity to meet that need.
"Customers can help reduce usage levels by taking some simple but important steps to use water wisely and efficiently at the present time and I urge everyone to think about the water they use in and around their homes."
Just one per cent of treated water is actually drunk by householders - the rest is used for toilets and showers and in the kitchen and for watering the garden. Scottish Water has advised people to take a shower rather than a bath, use watering cans not hosepipes, only run washing machines when full and not to run the tap while brushing your teeth.
Use water wisely advice is available on our website at
www.scottishwater.co.uk/savewater
or call our Customer Helpline on 0800 0778 778.