Take Autumn Action to Protect Property and Pipes
05 October 2018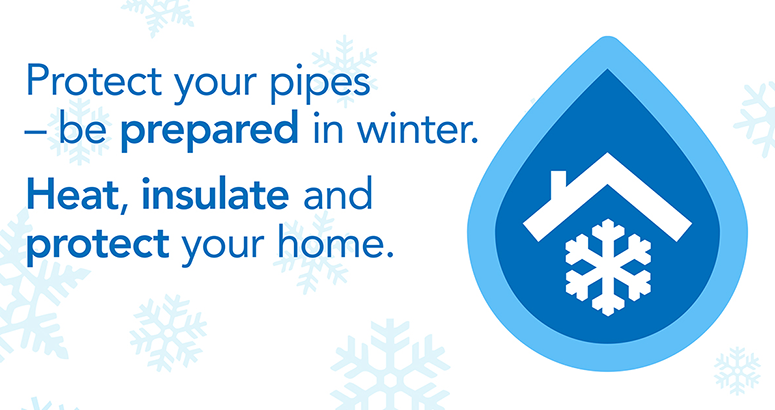 Winter Advice
Taking action now can prevent the misery of damage to property and pipes from bursts and flooding in the months to come
Householders across Scotland are being urged to take action this autumn to ensure their property and pipes are protected ahead of winter.
Scottish Water has issued a reminder to property owners that preparing now for winter will help prevent problems such as burst pipes and flooding in the event of freezing temperatures at the end of the year and into the first few months of 2019.
With extremes of weather experienced in Scotland this year – from heavy snow and sustained sub-zero temperatures to the hottest summer in decades – householders and businesses should adopt a "prepare now" approach.
Temperatures varied this year from -15C during the Beast from the East to around 32C at the height of the summer. During the severe winter weather, Scottish Water dealt with about 700 customer-reported bursts in a month.
The Met Office has also supported the call – made during Climate Week - for early preventative steps to head off winter property issues.
The Scottish Water Winter Code advises anyone with a home, holiday home or business premises to take action to heat, insulate and protect their properties, whether the property is old or new, ahead of any cold weather.
Scottish Water's Chief Operating Officer, Peter Farrer, said: "It is only a few months ago that we were experiencing heavy snow and sub-zero temperatures across Scotland. During summer we experienced the opposite extreme when the hot weather settled in for weeks on end.
"With autumn now here, it's the ideal time to prepare for the possibility of further severe weather and the potential impact that has on property. Taking action now can prevent the misery of damage to property and pipes in the months to come.
"By taking steps to heat, insulate and protect properties, customers can avoid the considerable headache and heartache caused by burst pipes. We want to work with our customers to ensure we are all prepared for whatever winter weather we get."
The key advice in our winter code is:
Heat
: Warmth offers the best protection against frozen pipes, so when temperatures are low leave your heating on a low setting, or set it to come on a couple of times a day.
Insulate
: Pipes don't like the cold – whether they are outdoor or indoor, metal or plastic, new or old. Making sure pipes and water tanks are properly insulated is one of the simplest, and cheapest, things which can be done to help protect properties from the cold. Make sure that there are no gaps at bends, valves or fitting, and that you use a suitable insulation material.
Protect
: If you are going away, make sure you have someone who can check regularly for any problems. Dripping water increases the risk of freezing, so have any drips or leaks at taps or valves repaired as soon as you discover them, and reduce draughts by fitting draught excluders to doors and windows. If the property is going to be vacant over winter, turn off the water supply and drain the system.
Even when your home or property is winter ready sometimes damages can happen, so make sure you have adequate buildings and content insurance.
If your home or property is going to be vacant over the winter months, turn off your water supply and drain the system. A licensed plumber will be able to give advice about this.
Other important winter advice includes tips on finding and using your stop valve, keeping a small emergency pack handy, and be a good neighbour and keep an eye out for your neighbours including the elderly and those who might need additional support.
Scottish Water's advice was backed by the Met Office, whose Head of Civil Contingencies Mel Harrowsmith said: "As we move closer to winter, there are a number of simple steps we can all take to ensure that we stay safe and that our homes and possessions are protected during severe weather. Although it is too early to tell what weather this winter will bring, taking time to prepare now may help protect your home, properties and businesses – avoiding costly repairs or inconveniences that can result from winter-related issues."
Scottish Water, whose advice to property owners is being issued during Climate Week, October 1-5, is also urging holiday home owners, whose properties will be occupied by visitors and tourists, to follow the winter code.
Riddell Graham, Director of Partnerships for VisitScotland, echoed our advice to holiday home owners and said: "During the colder months, holiday home owners need to be prepared for a sudden change in temperature to help prevent any unwelcome surprises when visitors arrive at their properties. We would ask all property owners to take some time out of their busy schedules to be prepared for the winter season. Scotland is a beautiful and festive place in winter and by working together we can ensure visitors have the best experience possible."
Scottish Water is also offering a free quick reminder stop valve sticker, where you can write the name and contact number of your local licensed plumber so that it is handy in case of an emergency.
Visit
www.scottishwater.co.uk/winter
for more winter information, advice and films.
For the free stop valve sticker: Email
customermarketing@scottishwater.co.uk
, or write to Customer Marketing, Free Stop Valve Sticker, PO Box 8855, Edinburgh EH10 6YQ
Follow us on Twitter
@scottish_water
and Facebook
facebook.com/scottishwater
and use hashtag #SWwinter
Customers can also sign up to receive free texts (SMS)* to keep up to date about our work or service updates, such as having no water supply, in your area – please text 'Update' with your postcode to 82228. * For more info and T&Cs visit www.scottishwater.co.uk/textterms.