New Lochmaddy Water Treatment Works Set for Journey West
12 June 2018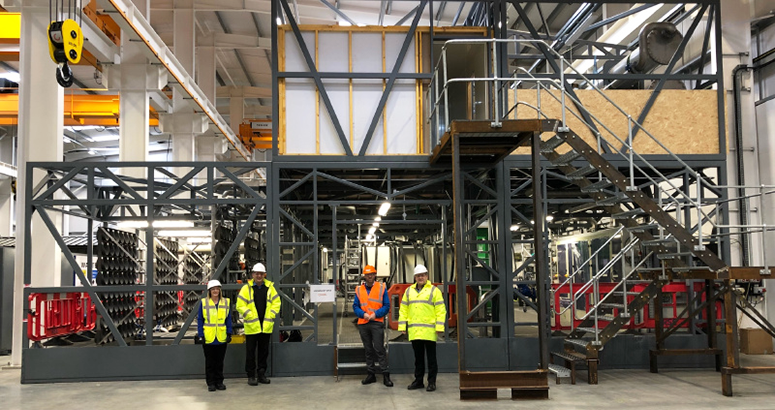 New Water Treatment Works Road Trip
New WTW to serve the islands will begin epic 128 mile trip under police escort in six convoys over three weeks.
The key element of a £15 million investment in the future water supply for North Uist and Berneray is set to start its journey west next week. 
The new Water Treatment Works which will serve the islands has been designed, built and tested by Ross-shire Engineering using the latest technology at its specialised facility in Muir of Ord.   
The Transportable Treatment Unit (TTU) is now being dismantled into 12 modules which, together with a 150 tonne crane, will make the 128 mile journey by road to Uig in Skye in 6 convoys over the next 3 weeks. From Uig they will make the crossing by CalMac ferry to Lochmaddy, before completing the short onward journey to their permanent home.    
Each convoy will have a police escort as it makes its way to Uig via the A832, the A9, the A82 and the A87. The first two convoys are set to depart from Muir of Ord at 9am on Monday 18 June and on Thursday 21 June.   
Scottish Water project manager, Anoushka Ainslie-McAlpine, said: "These deliveries represent an exciting milestone for this project which, once complete, will see a single, improved water supply in place for Scottish Water's customers across North Uist and Berneray.   
"The way in which this project is being delivered is a great example of Scottish Water and Ross-shire Engineering working together in an innovative way to deliver lasting benefits for customers.   
"Assembling and testing the Water Treatment Works under factory conditions offers major advantages compared with a much longer, more complex and less controlled traditional construction method on site.   
"Working closely with the police and our specialist haulage contractor, we will do all we can to keep any delays for road users to a minimum. We would encourage drivers to plan their journeys and to allow some extra time where possible. Our contractor is also working with CalMac ferries to ensure that ferry crossings can be managed flexibly each week in order to minimise impact on other ferry traffic."   
While the deliveries to Uig will be made via 6 convoys spread over 3 weeks, individual loads can travel separately on the ferry crossing to minimise the space required on busy sailings.   
Scottish Water Corporate Affairs Manager Gavin Steel added: "We recognise that these deliveries are taking place at a busy time for the Highland transport network and will do all we can to keep any disruption to a minimum.    
"The new Water Treatment Works at Lochmaddy will offer improved security of supply for the communities it serves; and ensure that our customers continue to receive high quality, great tasting drinking water into the future.   
"Our ambition to deliver reliable, resilient and sustainable water and waste water services all over the Highlands and Islands is at the heart of our current Shaping the Future consultation. We are seeking views on our plans to continue serving all of our communities in the years ahead while keeping customer prices low."   
The installation of the new Water Treatment Works follows on from the recent laying of a new water main between Lochmaddy and Bayhead, on the west side of North Uist. Construction is due to be complete by the end of the year.   
Earlier stages of work at the Lochmaddy site have included rock blasting to create the platform area where the water treatment modules will be reassembled, together with groundwork and the construction of an access track to the site of a new pumping station by Loch Fada.    
Communities throughout Scotland are being asked to help shape water and waste water services in a nationwide consultation - Shaping the Future - which can be completed online at
www.yourwater.scot
.