Scots Water Innovators' Mobile App Supports Healthy Hygiene Habits in Nicaragua
15 May 2018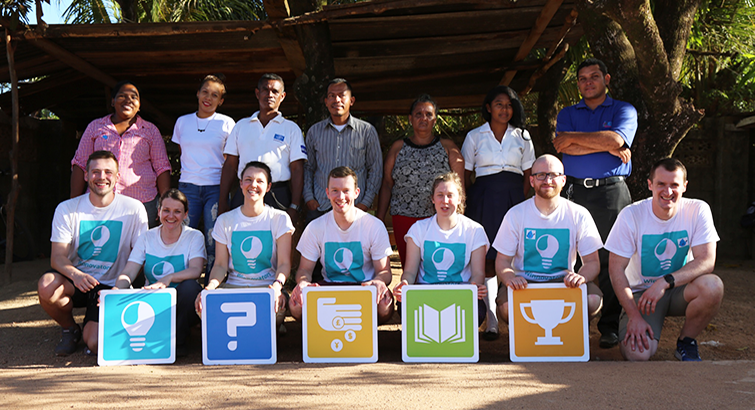 Winnovators Get Gold 
Scottish Water's young innovators Team Albagua are helping some of world's poorest regions with their mobile app in WaterAid global challenge.
Communities in one of Central America's poorest regions are improving toilet hygiene and health thanks to a team of water industry employees and volunteers from Scotland.
A team from Scottish Water, supported by Fujitsu won a global WaterAid challenge, Winnovators, by developing a mobile app which helps community volunteers log and monitor sanitation efforts to prevent health issues stemming from poor hygiene in Nicaragua.
The young innovators – known as Team Albagua and who perform a range of roles across Scottish Water in Aberdeen, Edinburgh and Glasgow - spent one week in-country with WaterAid Nicaragua seeing local volunteers putting the app to use.
The team - Donna Davidson, Euan Innes, Lindsay Selmes, Naomi-Beth Dixon, Rebecca Harding, Richard Grierson, Stuart Gullan and Fujitsu's Paul Harwood – saw off competition from around the world in the WaterAid Winnovators global challenge to take the So-App platform to Nicaragua.
They saw first-hand how the app supported WASH (Water, Sanitation and Hygiene) volunteers; members of the communities who dedicate their time to educating their peers in how to use the new assets in a safe way and follow new hygiene practices.
Euan Innes from the Scottish Water team said: "Before WaterAid's intervention, these communities had no access to any sanitation facilities. As part of installing toilet facilities, WaterAid supports and trains community members to become WASH volunteers.
"Our app contains a simple questionnaire to help the WASH volunteers track how the community is progressing with hygiene education and encouraging that behaviour change. The app helps motivate the volunteers to keep up their education efforts as well as enabling WaterAid to capture real data for the first time on how the communities are progressing."
The team visited three different communities in the North Caribbean Coast Autonomous Region in the North East of Nicaragua where WaterAid has worked or is planning to work. This region is largely made up of indigenous populations in isolated communities and extreme poverty. The legacy of conflict, deforestation and other factors mean access to clean water and sanitation is particularly challenging.
Wawa Bar, a historic fishing village of the indigenous Miskito people, faces tropical storms in the rainy season and water scarcity in the dry season that affects the quality of their water supply. The team presented So-App to hygiene promoters and community leaders, and visited several homes to test the application and receive feedback.
Euan Innes said: "It was fantastic to finally meet these volunteers in person in Wawa Bar. They're doing such a brilliant job and it was a great experience training them on how to use So-App. It was great to see it in action and to experience how our questions created genuine discussion around hygiene and keeping healthy. The challenge now is to take this energy and insight back to Scottish Water to continue to support great fundraising efforts across the organisation."
In Sukwas Abajo Community, the team saw how a contaminated stream left the community with no option but to send their children on mules and buses to collect drinking water from other communities. A viable source of water has been identified and WaterAid has proposed the construction of a gravity-fed drinking water system to supply five communities in the area.
Team member Lindsay Selmes said: "A member of the Sukwas community was keen to show us the source. It was a great experience hiking up to it through the forest, and to see how committed this man was to improving his community. We also saw the construction of the first two basic toilets and spoke with the families who would benefit from them. Local community members were being trained to build these, so, after WaterAid installs 'demonstration' toilets, the community knows how to do it for other households in the future."
Trip leader, WaterAid's Elizabeth McKernan, said: "Travelling to Nicaragua to see how this innovative application could transform lives was a powerful example of the value of bringing together the corporate and development sector through Winnovators. The team gained essential insights from their conversations with hygiene educators and on top of that have had a unique opportunity to see first-hand WaterAid's work with remote Nicaraguan communities."
In Nicaragua, over 1 million people lack access to clean water close to home, that is 1 in 4 people living without this essential. A staggering 1.4 million people have nowhere safe to go to the toilet. WaterAid's work there is vital to support the Government to ensure everyone everywhere has access to water and sanitation by 2030.
Winnovators gives participants the opportunity to solve a real problem faced by WaterAid, raise transformative funds for water and toilet projects and learn life-long leadership and business skills. There are 3 core parts of Winnovators – SOLVE the real problem, FUND WaterAid's work, LEARN new skills. The focus country for Winnovators 2018 will be India. Find out more at
www.wateraid.org/uk/winnovators
. Get involved locally at
www.wateraid.org
.
Team Albagua were crowned winners of the Winnovators Global Overall Winner at a ceremony in London on 19 October 2017. They were up against 40 other teams from across the world. Together, the teams raised more than £210,000 for WaterAid.