Panto Stars Sparkle This Christmas With Scottish Water
12 December 2018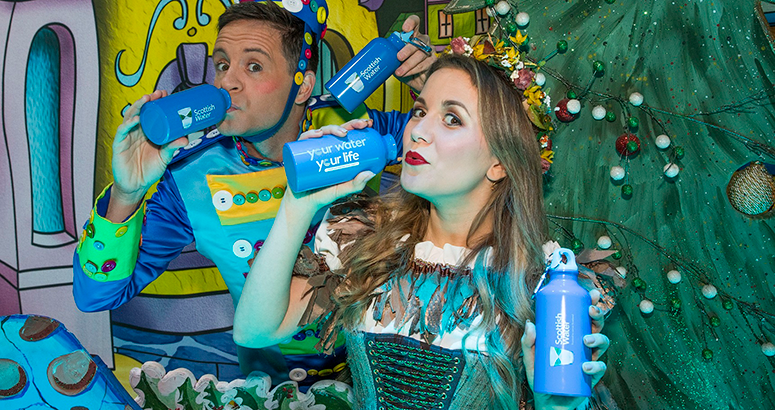 Panto Stars Back Refill Drive
River City star Holly Jack and TV presenter Liam Dolan, who play Cinderella and Buttons in the festive show, are encouraging everyone to top up from the tap
'Oh yes it is!' a great idea to top up from the tap
Stars of the Pavilion Theatre's Cinderella have added a sprinkle of magic to Scottish Water's campaign to encourage people to stay hydrated this Christmas.
Cinderella and Buttons (12 December 2018) toasted the campaign with their refillable bottles as the theatre backed the national drive to reduce waste and help the environment.
Pavilion staff will offer to top up the water bottles of panto goers throughout the festive season to quench their thirst as they laugh their way through the show's six week run.
The cast's two biggest water fans, River City star Holly Jack and TV presenter Liam Dolan, rely on Scottish water to keep hydrated during each performance.
The Your Water Your Life campaign aims to highlight how topping up from the tap benefits people's health, their pocket and the planet.
Since its launch, Scottish Water has committed to introducing 30 Top up Taps across the country and has received support from businesses who are keen to join the drive to make 'tap' the first choice of Scotland's water drinkers.
Iain Gordon, general manager, The Pavilion Theatre said:
"This is a great initiative and are happy to add our support in a bid to help reduce plastic waste.
"Our panto stars will be fuelled by Scottish water throughout the run, and with sealed bottles allowed in the theatre, we'll happily top up the bottles of our audience to keep them hydrated and happy too."
Brian Lironi, director of corporate affairs, Scottish Water said:
"During December we want to highlight the benefits of staying hydrated on the go, and what better way than to have the support of Scotland's panto festive favourites.
"We're delighted to see businesses embracing the campaign, encouraging people to ask for fresh, great tasting tap water in their venues, and hope panto goers remember their reusable bottle when they're heading out for a day of family fun."
For further information visit
yourwateryourlife.co.uk