Scotland Leads Way in Speeding Up Water Industry Innovation
11 December 2018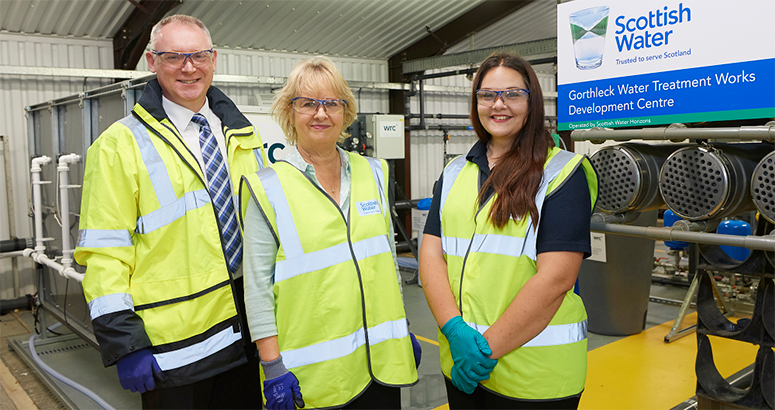 Water Test Network
Scottish Water has leading role in new five nation partnership to develop and introduce new products to market
A five-nation partnership will see Scottish Water play a leading role in a new network of test centres which will accelerate innovation across the industry.

The North West Europe Water Test Network will see experts at sites across the UK, Belgium, Germany, France and the Netherlands working in collaboration with businesses to develop and introduce new products to market more quickly.

Two Scottish locations – a water treatment works at Gorthleck, near Inverness, and a waste water treatment works at Bo'ness – form part of the collaboration.

The network will offer operational-scale demonstrator sites where new technologies which could transform water quality and management for decades to come.

In the competitive global water market, pre-commercial testing can be difficult and costly at operational scale with investors reluctant to support unproven technology. It can take up to 20 years to bring new solutions to the market. By advancing access to operational-scale test sites it is hoped the scheme can reduce the time to market to between five and eight years

Both sites in Scotland, which were once operational assets, are run by Scottish Water Horizons. They are not connected to the live operational network but are on an operational scale which allows innovators to be able to validate their findings and research for the benefit of future investors.

The network was formally launched today in Scotland House, Brussels. Barry Greig, the manager of the Scottish Government's Hydro Nation team.

Scottish Water Horizons Paul Kerr said: "Innovation is at the heart of our industry, as the challenges around water and waste water management in an ever-changing world become even greater. So we're delighted to be involved in this exciting programme which opens the door to SMEs to develop technologies which have the potential to truly transform the way we manage water and waste water.

"Water is a precious resource and how we manage waste water in the future can positively impact on our environment. The importance of sites like Gorthleck and Bo'ness, as part of a multi-nation test centre network, is vital to ensuring solutions for ever more effective and efficient ways of delivering real benefits for customers ."

The project will run until December 2021. SMEs will receive integrated support which links them with the best facility which meets their specific needs.
Find out more about Gorthleck and Bo'ness Development Centres