£10m Stromness Waste Water Network Upgrade Reaches Completion
19 March 2018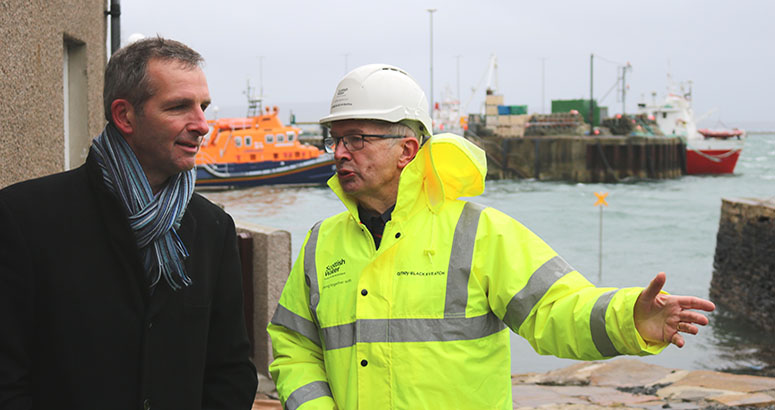 Major Upgrade Complete on Orkney
aBV site manager Chris Wright talks over the completed £10m project with Orkney MSP Liam McArthur.
A £10 million Scottish Water project which will maintain and improve the environment of Stromness Harbour has been completed.

The project has seen a major upgrade to the local waste water network, modernising the historic infrastructure serving the town and ensuring all Scottish Water sewers within Stromness are connected to the town's waste water treatment works at Bu Point.

The work involved the creation of an interlinked system of rising mains and gravity sewers, together with pumping stations, around the town's harbour-front. The project has been delivered by Scottish Water's alliance partner, amey-Black & Veatch (aBV).

Orkney MSP Liam McArthur visited the site and met with representatives of the project team from Scottish Water, aBV, local contractors and the community.

Commenting Mr McArthur said: "The major improvements to the waste water network in Stromness have been long in preparation and it is very welcome to see them completed.

"As a result of the work that has been done, the water quality in Stromness harbour will be significantly enhanced. The harbour is at the heart of the local community's heritage and its modern economy. It's also a great asset for recreation, so the investment that has been made will deliver a significant and lasting benefit."

Steve Scott of Scottish Water said: "The work that has been done in Stromness over recent years is important for the community's future and is delivering significant improvement to the local environment.

"Working in the heart of a historic community and a working port brings some challenges and we recognise that elements of the work have involved disruption - including restricted access, tides and laying new sewers in rock.

"We are very pleased to have completed the work that was needed and would like to thank local residents and businesses for the great patience they have shown."

aBV's Site Manager Chris Wright added: "Our team and our local contractors appreciate that our work has caused a fair degree of disruption in the town. We are very grateful for the understanding the community has shown to us while we got on with the job.

"It is great to be able to mark the completion of the project, which represents the culmination of several years' work and will provide Stromness with the modern infrastructure it needs."