Chief Executive Opens International Water Conference
11 June 2019
Leading the Way
Douglas Millican welcomed delegates to the International Water Association's Leading Edge Conference on Water and Wastewater Technologies. Scottish Water is co-hosting the week long event in Edinburgh, attended by some of the world's leading thinkers and champions of innovation in the water industry.
"If this event sparks just one idea in everyone who is here - and everyone took that back and implemented it - imagine the benefits that would bring?"

Douglas Millican
Chief Executive, Scottish Water
Opening speech:

Good morning - and welcome to Edinburgh - and to Scotland.
As Chief Executive of Scottish Water – Scotland's national supplier of water and wastewater services – it gives me great pleasure - to welcome you here - from all parts of the world.
I'm sure you will find the conference - both enjoyable and valuable.
And I hope that while you're with us - you have an opportunity to explore our capital city and further afield - experience some good Scottish hospitality - and perhaps enjoy - some of the great outdoors.
Scotland is a country of water - with 30,000 lochs and more than 18,000 kilometres of coastline.
Water shapes the geography of the nation – our 790 islands, our beaches, our dramatic scenery.
It is a part of everyday life and a large part of our culture.
I defy you to find a Scot - who, when asked to imagine, draw or photograph Scotland's landscape - doesn't include water. It is understood by everyone - as one of our finest national assets - and a source of great pride.
But Scotland is also a country of great diversity - from our large urban centres of population and industry - to many sparsely populated areas - of the highlands and islands.
The range of communities we serve is enormously varied - and consequently - so are the ways - we deliver our essential services.
For example, our largest water treatment works - serves around half a million people. Our smallest is literally the size of a small hut – serving just a handful.
The history of Scottish Water - the organisation - is a modern story. We were established in 2002 - to deliver higher quality services and with significantly greater efficiency. With the clear expectation - that we would be delivering the same high - and improving - service levels for everyone – irrespective of where they live – for the same level of charge. Delivering equality in service and price.
Prior to our creation - the delivery of water and waste water services - was localised - historically by local authorities and then briefly by three regional authorities.
Investment in the nation's vital water and waste water assets - had been historically lower than needed - particularly in the more rural north of the country. Scottish Water enabled the investment to take place - and for the costs of that investment to be spread equally - across all of Scotland.
Over the past 17 years, we have transformed our efficiency and customer service. And it's not just our view – independent research shows - that Scottish consumers trust in water services – is now higher - than for any other sector of the economy.
All of this improvement has been achieved - within a framework of engagement - with our regulators and stakeholders - that is genuinely supportive and collaborative. The size of Scotland - and that common cultural understanding - of the importance of water - is key to effective cross-sectoral working.
So we have a good story to tell. But Scotland is no different from the other countries represented here – we face significant challenges in the years and decades to come.
One of the most significant of these - is climate change - which will impact increasingly on our services - in many ways - including water quality, water resources and flooding.
For example, Scotland has a large share of Europe's peat. And as rain chemistry and patterns change - we are seeing higher levels of organic matter - in our raw water sources.
The challenge of treating these raw waters – where levels of organics can increase dramatically within hours - is significant for us - and one that requires a multi-faceted and innovative approach.
Another key challenge we face - is around our assets - both the nature of them and their condition. History and geography - means we have a high number of small, discreet water supply systems.
Our assets are always ageing - and need maintained and replaced – but the rate of this need is rising. In many areas, our network infrastructure is well over 100 years old.
This means there is much for us to do - maintaining and replacing our ageing assets – and building greater resilience into our systems.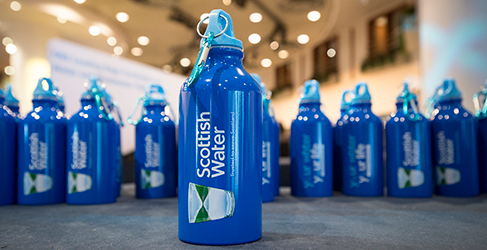 Delegates were encouraged to top up from the tap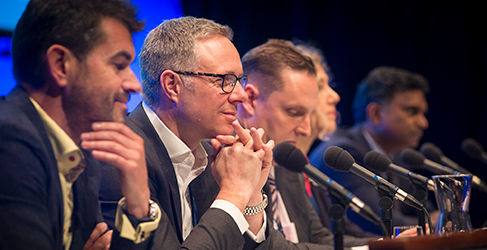 Rob Mustard, Director of Digital, Scottish Water (second left)
Another challenge we have - that will be common to many people here – is that of population change and movement.
That means extra demand on assets - that don't always have the capacity or perhaps the condition to cope. This will require significant investment in coming years - if we are to keep pace with this.
And we have the challenge - of customers' changing expectations. Ever-rising expectations - as technology, such as social media - empower people to demand better service. And ever rising expectations - as customers' experience - ever better service - from other consumer-facing organisations.
Customers now expect - high quality drinking water and flawless service -without exception. Younger customers - in particular - have never known anything go wrong with their water supply - and assume that will continue into the future.
Customers are also demanding more beyond our core service. They expect us to show leadership - in environmental sustainability - and to provide social protections around vulnerability and affordability.
But for each challenge we also have opportunities.
As I mentioned earlier - independent surveys show - that Scotland's water sector is the most trusted by consumers. And that relationship with our customers - has real value for us - not least when asking them - to support actions to tackle shared problems.
One of our greatest opportunities - is founded in the good fortune of our geography and topography. Our water systems are largely gravity fed - which means we have the lowest carbon intensity in the UK water sector.
We now produce - or host - twice the amount of renewable energy - than the energy we consume - in our operations. And the landmass under our control - provides opportunities to further contribute toward national goals for the decarbonisation of energy.
Scotland has a heritage for innovation - and we are continually innovating in the technology we use - and in the transformation of our systems and processes.
From using flow cytometry technology - to enable real-time information about bacteria in water - to adopting new technologies such as carbon fibre to protect our pipes - or Nereda for treating our wastewater.
We also encourage others to innovate here in Scotland – and have established two innovation centres - one for water and one for waste water - where new technologies can be tested and developed.
And that of course is the purpose of this conference. To share and explore new ideas - that will play a part in the future of water services.
If this event sparks just one idea in everyone who is here - and everyone took that back and implemented it - imagine the benefits that would bring?
And I would urge that we all have that aim for this conference. To take away something that will help in the vitally important job we all do - serving our customers and caring for our natural environment.
We are immensely proud to be holding the Leading Edge Technology 2019 here in Scotland - and I sincerely hope you enjoy it.