Tour Will Share Our Love of Water
14 June 2019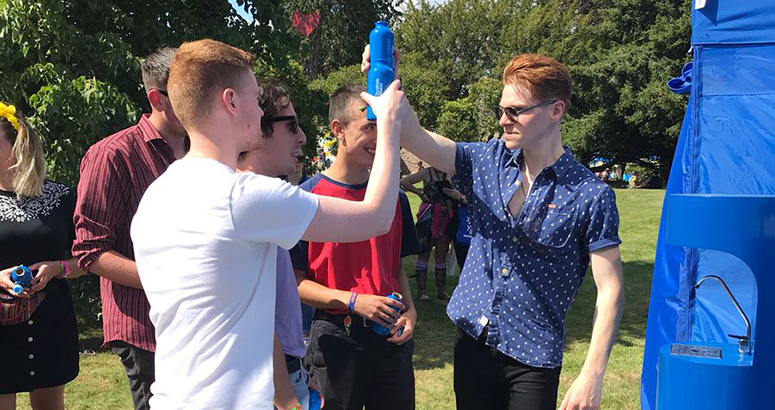 Topping up from the Tap
We kept festival goers hydrated at Belladrum last summer when we took our Your Water Your Life campaign on the road. Our supporters Dunfermline group Dancing on Tables helped encourage everyone to top up from the tap.
We're going on the road this summer to share our nation's love of water at some of the country's biggest and best-known events.
We're stepping it up a gear, following on from last year's success at events like the Royal Highland Show, the Ideal Home Show and Belladrum music festival.
As part of our Your Water Your Life campaign we want to spread the word about the vital part water plays in our everyday lives.
We will be at a series of sizzling summer events to highlight the importance of loving your water and sharing simple tips you can take to help use your water wisely.
It all gets underway next week at this year's Royal Highland Show at Ingliston, near Edinburgh, from June 20-23.
You'll be able to top up from the tap with Scotland's fresh, great-tasting water and you might even be able to grab one of our iconic blue Scottish Water refillable bottles – this summer's must have accessory!
We'll be out and about right across Scotland at events including Glasgow's Mardi Gla July 20-21; The Black Isle Show at Muir of Ord; the Aboyne Highland Games on August 3; Skye Live, September 6-7; and the Dundee Half Marathon, September 22, to name but a few.
Brian Lironi, Director of Corporate Affairs, Scottish Water, said: "We want everyone to share the love of Scotland's water and appreciate the vital role it plays in our everyday lives.
"We're excited to be part of some amazing events this year to ensure that everyone can top up from the tap with a refillable bottle while they're there."
Check out the full list of events we're attending at
Your Water Your Life Events