Water and Wildlife Gain from Peat Bog Restoration
17 June 2019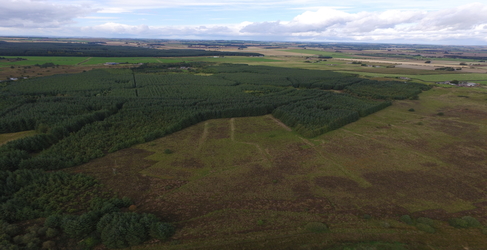 North east peat bog landscape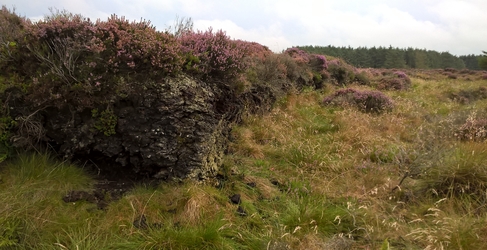 Drying wetlands
"It's great to see Moss of Kinmundy on the road to recovery through restoration. I'm sure in time this will provide a significant carbon store, while also creating homes for wildlife. Hopefully this is the beginning of a landscape scale approach to tackling issues caused by degraded peatlands in the River Ugie catchment."

Hywel Haggs
RSPB Scotland
Restoration of a giant north-east peat bog is underway to improve both water quality and restore natural wetland habitat for native and migratory wildlife.
The Ugie Peatland Partnership (UPP), a consortium of eight different organisations, is working to restore 1500 hectares of peatland within the River Ugie catchment area in Aberdeenshire. Deteriorated over time, the carbon-rich peat soil has seen areas suffering from significant levels of degradation due to the combined impacts of drainage, forestry and historic peat extraction. In total around 20 priority sites have been identified for restoration.
The drying of the peatlands leads to the release of greenhouse gases into the atmosphere and erosion of the peat soil into watercourses. With more organic matter making its way into the river which provides the area's drinking water supply, Scottish Water's treatment process has to work harder to ensure the water that reaches customers' taps is always of the highest quality.
Other impacts include the deterioration of habitat for a wealth of wildlife that call the peatlands home including wading birds such as golden plover and butterflies such as the Large Heath Butterfly which Butterfly Conservation has identified as a priority species due to its declining numbers across the UK.
Of the 20 priority sites identified, restoration of the first area, Moss of Kinmundy situated in the River Ugie catchment just over 5km south-west of Peterhead, is the first to be completed. Covering approximately 50 hectares, restoration focused on increasing the amount of water held on the bog to reverse the drying that has taken place. To do this, approximately 700km of ditches were blocked, two hectares of poor- growing plantation were removed and just under 2km of peat hags – eroding banks of peat – were reshaped and vegetated.
The eight organisations within the UPP, Scottish Natural Heritage, RSPB Scotland, Aberdeenshire Council, IUCN Peatland Programme, SEPA, Forestry & Land Scotland, Peatland Action and Scottish Water, are working collaboratively to contribute expert knowledge and advice to progress these vital restorations.

Scottish Water's Catchment Management Technical Lead, Jared Stewart, said: "The Ugie catchment has been identified as an important area for peatland restoration by Scottish Water and other stakeholders. The Ugie Peatland Partnership was formed to identify specific restoration projects within the catchment that would positively impact on source drinking water quality and biodiversity. We are committed to working closely with our stakeholders to restore and protect strategically important peatland for the delivery of multiple ecosystem services."

Hywel Haggs from RSPB Scotland added: "It's great to see Moss of Kinmundy on the road to recovery through restoration. I'm sure in time this will provide a significant carbon store, while also creating homes for wildlife. Hopefully this is the beginning of a landscape scale approach to tackling issues caused by degraded peatlands in the River Ugie catchment. We have a long way to go, but this is a fantastic start."

The diversity of the partnership's member organisations highlights the diverse interest in the Ugie peatlands and the importance of its restoration to positively impact on climate change, safeguard this important natural habitat and protect drinking water quality.