3Cs Doorstep Safety Advice Reminder after Bogus Caller Incident in West Lothian
18 June 2019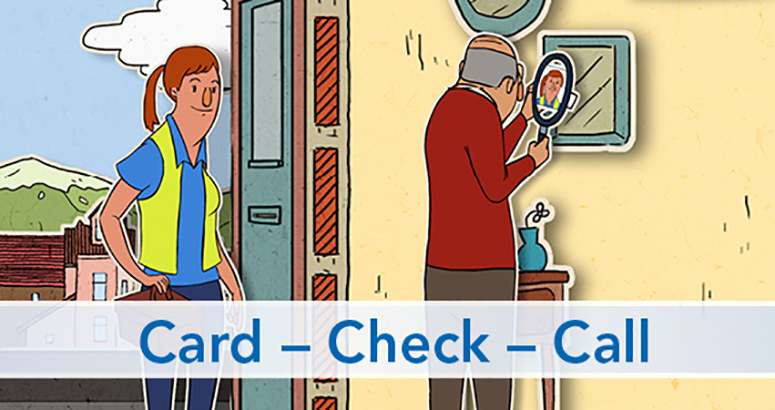 Follow the 3Cs
Always check for photo ID and follow our safety advice - CARD CHECK CALL
Customers should remain vigilant and follow the 3 Cs safety advice – CARD CHECK CALL – following a serious bogus caller incident in West Lothian.
The incident is believed to have happened on Monday, June 10, in the Glencoe area of Whitburn, when a man claiming to be from Scottish Water visited a house saying he was there to sample the water. It's believed a second person may also have been involved.
A safe, with valuables worth £7,000, was found missing the following day and reported to police.
Police Scotland are investigating and it's being treated as a bogus caller incident.
Scottish Water was not working in the area at the time and we would remind customers that all of our employees, or those acting on our behalf, will always carry photo ID.
Follow our essential safety advice – if we knock on your door, check photo ID and follow the 3Cs rule:
Card
– Anyone calling on behalf of Scottish Water, whether an employee or a contractor, will always carry a photo ID card or letter. Always ask callers to pass their ID card or letter through the letter box to check their identity.
Check
– Check the ID card carefully: Is the photo on the ID card the same as the person at the door? Has the card been tampered with in any way? If you are not confident that they are a genuine caller, send them away.
Call
– If you are in any doubt about the caller's identity call the customer helpline on 0800 0778778 to confirm they are genuine.
A Scottish Water spokeswoman said: "We're committed to helping reduce doorstep crime carried out by bogus callers. We're doing all we can to minimise the risk of anyone impersonating a Scottish Water employee or someone carrying out work on our behalf.
"Anyone working for Scottish Water, or on our behalf, will always have a photo ID card. If we knock on your door, check the photo ID and follow our 3 Cs rule: Card, Check, Call.
"Ask callers to pass their ID card or letter through your letterbox so you can check their identity. Check the ID and see if it matches the person and that the card looks genuine and has not been tampered with.
For more information from Police Scotland on this incident:
Bogus Caller Whitburn
Discover More