Pupils Pledge to Protect the Planet
25 June 2019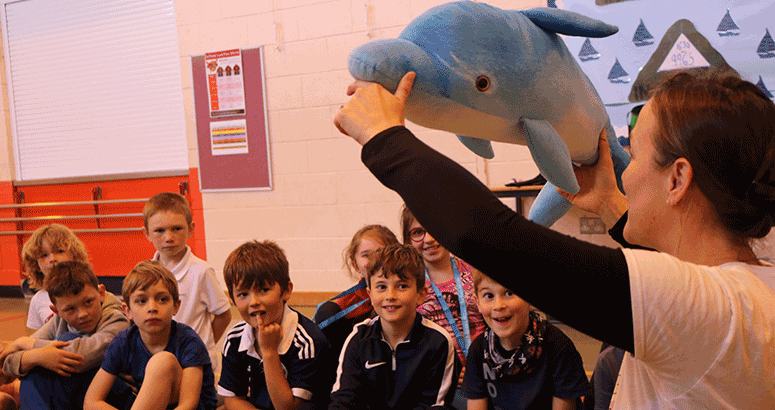 Youngsters having a flipp-ing great time
Youngsters at Kinghorn Primary being taught about how they can help save the planet by Joanna McFarlane
"This project should instil pride in the next generation."

Aoife Hutton
Community Project Officer from Keep Scotland Beautiful
School children across Fife are taking part in the 3P Pledge Champion Award to help tackle marine litter and keep the sewers flowing freely.
Scottish Water has partnered with local environmental educators Wild Planet Explorers to deliver a series of free workshops to over 1300 children - and sign them up to the 3P Pledge to not flush anything down the loo apart from pee, paper and poo.
The project, already running at Kings Road Primary School in Rosyth and Kinghorn Primary School, educates children in P1 to P7 on the impact their actions can have on the environment and teach them what they can do to help.
It looks to build on Scottish Water's Cycle Campaign, which highlights the damage that can happen to our sewer network when the wrong things are put down the drain. This includes bursts flooding and pollution.
The fun and interactive workshops are delivered by Charlestown local Joanna McFarlane who is a biologist, conservationist and founder of Wild Planet Explorers. The sessions focus on the impact of sewage-related items on wildlife in the seas and the importance of properly disposing of everyday things such as wet wipes and cotton buds which can block sewers and pollute the environment.
By using different characters such as Orsom the Octopus, Cassius the Crab and Deepa the Dolphin, the rivers, seas and oceans are brought to life in the classroom. Children then work on pledge posters which they ask their families or guardians to sign. They also take part in a beach clean or local litter pick to help them further understand the link between their actions and their every day lives and nature.
Rosyth and Kinghorn were chosen for the project to help reduce the amount of litter found in the local sewer network. In Kinghorn this also coincides with the completion of a £700,000 project to help improve bathing waters.
Scott Fraser, Corporate Affairs Manager for Scottish Water said; "I am delighted we have teamed up with Joanna at Wild Planet Explorers to deliver the 3P Pledge Champion Award sessions across Rosyth and Kinghorn. Having seen how powerful these sessions are in terms of the impact they have on children it is fantastic to know we are helping these messages to be delivered."
Kinghorn Primary School is an Eco School and these sessions will help it obtain Green Flag Status, an internationally recognised award for excellence in environmental action and learning.
Aoife Hutton, Community Project Officer from Keep Scotland Beautiful, said: "We welcome this new project to engage hundreds of primary schools with the issues of litter from source to sea. This links perfectly with the ambitions of our international Eco Schools programme and our exciting My Beach Your Beach project, which is coming to Kinghorn Harbour Beach this summer. This project should instil pride in the next generation."
The partnership has supported by local politicians including David Torrance, MSP for Kirkcaldy, who recently attended a session at Kinghorn Primary with a P4 class. And Annabelle Ewing, MSP for Cowdenbeath, who has been a long-time advocate of Wild Planet Explorers and said: "It is fantastic Scottish Water is supporting these workshops for local primary school pupils in my constituency. The impact of litter – particularly single-use plastics – on the environment is a hugely important issue and one which each and every one of us can take immediate and significant action.
"Raising awareness and changing habits can have a really positive effect and young people have been shown to respond very positively to the messages these workshops convey, becoming significant agents for important change in their families and in their communities."
The sessions will continue in the new school year and involve other primary schools across Rosyth including St Johns and Camdean.