Scottish Water Leaves Positive Legacy in Arbroath
04 July 2019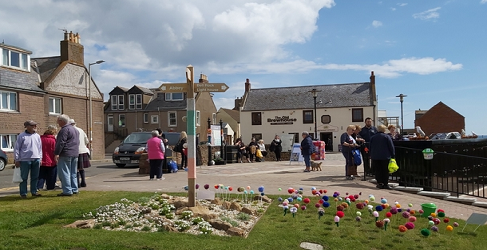 'Fit o' the Toon' Community Day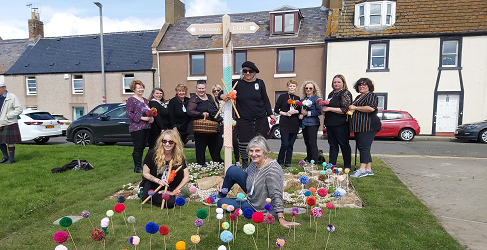 The Wooly Workers
"We are absolutely delighted. Scottish Water have done a really good job here."

Claire Walmsley
'Fit o' the Toon' Community Residents Association
Improvement works at Scottish Water's pumping station at 'Dangerpoint' in Old Shore Head, Arbroath have helped to give the local area a boost.

Our alliance partner Amey Black & Veatch (aBV) have been working on the £700K project which involved the construction of a new above ground control kiosk as well as installing new mechanical screens at the pumping station which is a key part of the Angus town's waste water network.

An integral part of the project was the way both Scottish Water and aBV worked closely with the 'Fit o' the Toon' Community to ensure the project was delivered in a positive way that was also sensitive to the area and the local community.

aBV Customer Manager Jeff Windross said: "We have done a lot of work with the community, particularly listening to views about how people wanted the area to look once our work was completed. As a result, we've been able to repaint the street furniture to freshen the area up, install two new seagull-proof waste bins, add a new fingerpost tourist sign with rockery and provide ten new washing poles for the community drying green. And the area itself is looking really well."

Claire Walmsley of the 'Fit o' the Toon' Community Residents Association added: "What has been fantastic is the way Scottish Water have consulted with us residents. When we talked to Scottish Water they listened, went away, talked and amended the plans. And what we have here now is fantastic. We are absolutely delighted. Scottish Water have done a really good job here"

Scottish Water's Clive Duncan added: "Throughout the whole project we have engaged with and listened to the community. We have worked with them to leave a positive legacy for the area - it has been a really rewarding process. On behalf of Scottish Water and aBV we would like to thank the community for their enthusiasm and willingness to work with us in such a positive way".

To mark the end of the project's construction and the benefits it has delivered for the community, an event was held at Dangerpoint where the local group the Wooly Workers decorated the area with colourful knitting and the community gathered to celebrate the end of the project.
Click on 'discover more' below to learn more about the project and view our Community Day video.