Horses Power Major Milngavie Investment 
09 July 2019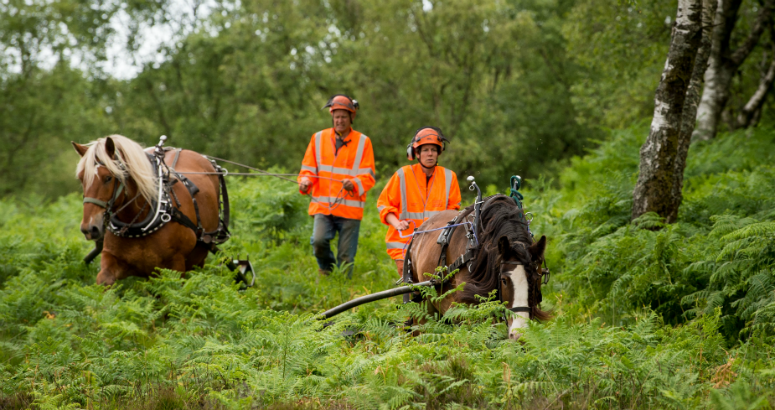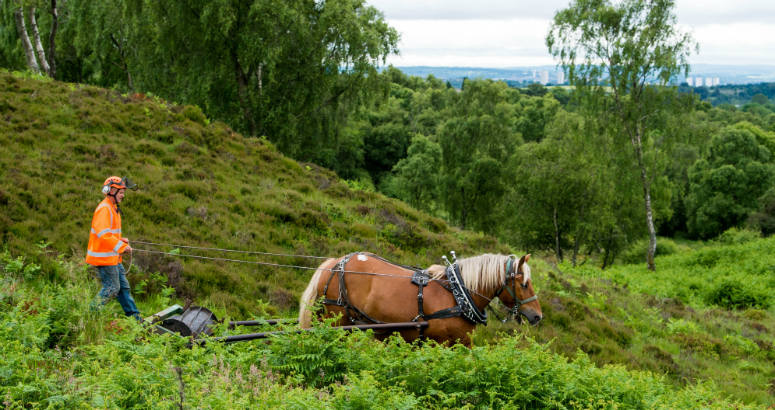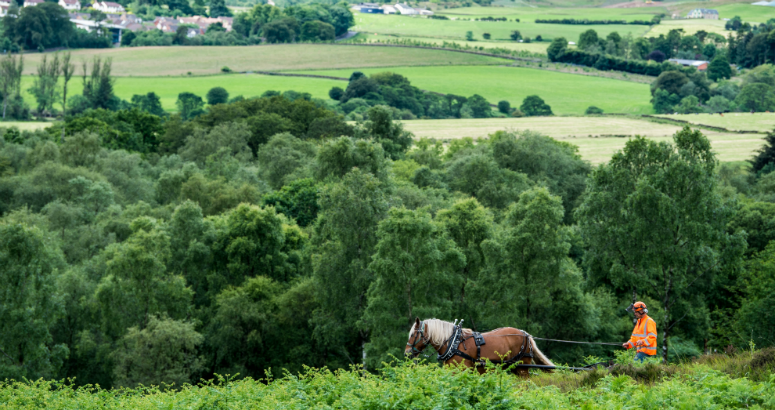 Back to the Future
Horses 'bracken bashing' in Milngavie.
We've been using horses to help the environment in the Milngavie area during a multi-million pound project that will improve services to more than 50,000 customers.
Contractors working for us have helped to improve land and promote the growth and regeneration of native vegetation on lowland heath areas on a Site of Special Scientific Interest (SSSI) in Mugdock Country Park.
Following a request from Scottish Natural Heritage (SNH) to carry out the environmental improvement work while we were progressing with our £30 million Burncrooks water mains project nearby, we went back to basics and used good old-fashioned horse power to control bracken.
The two working heavy horses, called Tyne and Tantan, were used to clear the bracken in a more environmentally-friendly and sustainable way than the alternative of using chemical sprays. Tyne is an eight-year-old Clydesdale/Cob cross standing at 14.2 hands high and Tantan is a 12-year-old Comtois who is 15.2 hands high.
Operated by horse-logging contractor David Roycroft, the horses spent a day working in an area close to our project 'bracken bashing' by pulling a roller with a serrated edge to break the stocks. This process will eventually clear the bracken and help native vegetation such as heather to grow in an area of the country park near the West Highland Way.
Sean Lavin, senior construction manager with Caledonia Water Alliance (CWA), who are delivering the Burncrooks water main project for us, said: "SNH asked us to remove the bracken on land near where we are working, following a similar request earlier this year to remove some trees beside our work area west of Drumclog car park.
"We were very happy to help and chose to clear the bracken and trees by using the horses because this method would be much better for the local environment than using chemical sprays and machinery such as a 20 tonne excavator.
"Horses have a lower impact on areas such as woodland and heathland and they cause less compaction of the soil and scarify the ground which is really good for natural regeneration.
"We were working on sensitive ground on a SSSI site so we wanted to be as environmentally-friendly and as respectful of the local area as possible.
"Using the horses is also people-friendly. We've found that many people walking in the area have been keen to stop and watch them at work. It's quite an unusual sight these days!"
The £30 million Burncrooks project involves the installation of about 8 miles (13km) of new water main, the transfer of supply from Burncrooks WTW to Milngavie WTW and the decommissioning of Burncrooks WTW.
It will improve services to 54,000 people in parts of the Bearsden, Milngavie, Clydebank and Strathblane areas.