Mollie Signals Go-live for Munro Challenge Sign-up
11 July 2019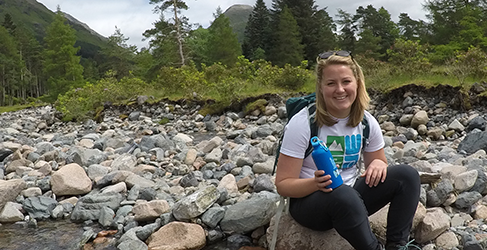 Registration is now open for Munro Challenge 2020 to raise funds for WaterAid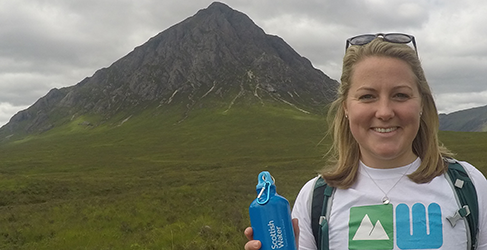 Mollie explains how you can help by taking part in mountain challenge
Mountaineer Mollie Hughes has signalled the go-live of registration for the Munro Challenge 2020.
Last month it was announced that the challenge to raise funds for WaterAid projects in Malawi by getting a team from Scottish Water, friends, families and partner organisation, to the top of every mountain in Scotland over 3000 ft was returning. The challenge will take place on Saturday June 6 2020.
Mollie, from Edinburgh, who has twice conquered the world's highest peak, Mount Everest, within 10 years of climbing her first Munro, has given her support to the endeavour and will take part herself.
With registration now open for teams to take part, Mollie has encouraged as many people from across Scottish Water to sign-up and take to the hills.
After she recorded a special video clip during a climbing trip in Glen Coe, Mollie said: "I'll be taking part to raise money to help provide access to clean water and toilet facilities in communities in Malawi – will you?
"I hope as many employees from across Scottish Water and the many organisations it works alongside join me in taking part in this challenge next summer.
"Climbing to the top of our country's Munros benefits you individually through exercise, fresh air and is good for the mind. By raising money for WaterAid projects in Malawi participants have the chance to benefit others who don't have access to the same clean, clear water we enjoy in Scotland."
Elizabeth McKernan, WaterAid Scotland and Northern Ireland manager, said: "We're delighted to have Mollie's support. As an accomplished mountaineer and adventurer she knows what it takes to get to the top of the world's highest mountains.
"By taking part in the Munro Challenge 2020, along with Scottish Water employees, friends, family and partners organisations, all funds raised from the WaterAid Scotland Munro Challenge will help to bring clean water, decent toilets and good hygiene to communities in Malawi, something we take for granted in our own homes and communities."
2020 marks the 25th anniversary of the Munro Challenge and will see Scottish Water employees, partners, friends and family take to the mountains across Scotland to raise funds to help provide access to clean water and sanitation facilities. The challenge has raised £1 million since it first took place.
Teams of between four and seven people are being asked to come together and climb as many of Scotland's 282 3000ft-high mountains next summer.
Malawi faces drastic water shortages and at least a third of the population has no access to basic water sources. Healthcare facilities and early childhood development centres often lack water supplies and toilets, with 52 per cent of disease in Malawi being attributed to poor water, sanitation and hygiene.
Scottish Water employees have been fund-raising for projects in both Rwanda and Malawi in recent years in support of WaterAid and with Scottish Government assistance.
You can sign up now to take part in the Munro Challenge 2020. The registration fee is £15, and includes an iconic Scottish Water refillable bottle and a Munro Challenge t-shirt.
Munro Challenge 2020
Register here to take part in the Munro Challenge 2020
Sign up