Blog: My Hopes for Future in Water Sector – says IW Rising Star Kirstin Watt
12 July 2019
IW award winner Kirstin with Scottish Water's Ken Hutchison, who received WaterAid Outstanding Achievement Award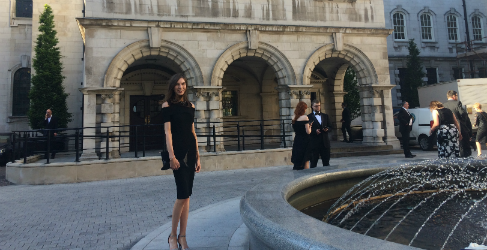 Kirstin attending the Institute of Water Annual Conference 2019 at Titanic Belfast
"If you're willing to invest the time and effort on your personal and professional development, and take up the opportunities that are offered, you will be closer to realising your future potential."

Kirstin Watt
IW Rising Star and Strategic Planner, Scottish Water
The Institute of Water Annual Conference is regarded as one of the highlights of the water sector calendar and as the winner of two awards at this year's event in Belfast, I could not be more proud.
I was delighted to have won not only the Scottish Area Committee Member of the Year Award, but was also recognised as a National Committee Member of the Year. I'm particularly proud because I was nominated by fellow committee members and those I've been working closely with.
The IW is the only professional body that exclusively supports the careers of anyone working in the UK water sector.
I was automatically enrolled when I joined Scottish water as a 'Specialist Graduate' in 2014 and my mentor invited me to join the next generation on the Scottish Area Committee. I immediately volunteered and have never looked back.
I'm always kept busy with my role at Scottish Water as Strategic planner in the Wastewater Risk and Lifecycle Planning Pan-Scotland team, as well as further education, and being involved in the International Water Association's Young Water Professionals UK.
Being part of the IW is a great support network and I love the friendly and approachable nature of the Institute. My role with IW is really varied and I can use my skills to contribute in lots of different ways, including: Innovation Awards Lead; publicity co-ordinator and Newsletter Editor and Social Media Editor. I'm also a member of the Events Sub-committee and local area contact for a group of members.
The aspect of the IW I value most is that I believe it rewards hard work; you really do get out of it what you put in. If you're willing to invest the time and effort on your personal and professional development, and take up the opportunities that are offered, you will be closer to realising your future potential.
Being awarded the Rising Star in 2017, and being chosen to represent the UK water sector at the International Water Association's Young Water Professionals Conference in Cape Town the same year, are also among my career highlights so far.
The IW Scottish Area committee has been a great support system for me in the early stages of my career, and I'm grateful for the opportunity to be part of it.
My next challenge will be to begin my environmental chartership with IW this year, and with the constant support from Scottish Water as my employer, I feel ready to take the next exciting steps on my career path in the water industry.