Cop Up From The Tap
25 July 2019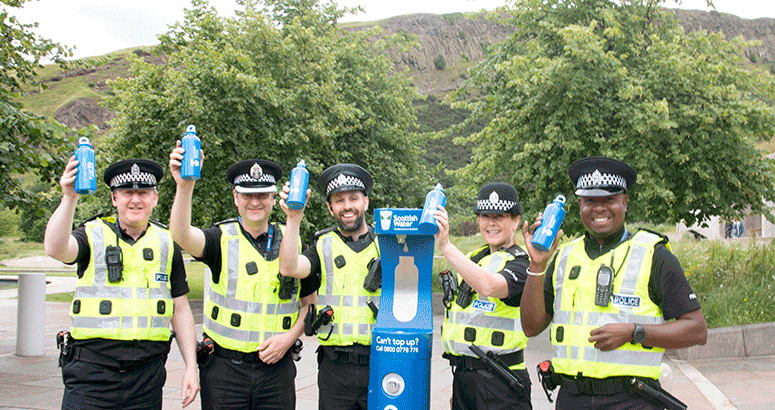 Summer in the City police officers use our refill tap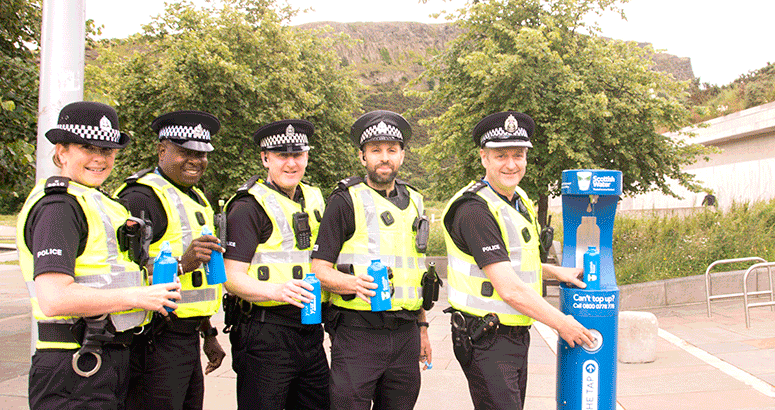 Watch our video about how we are helping Operation Summer City stay hydrated
Police officers on the beat during the Capital's summer festival have been issued with a new piece of kit to help them top up from the tap.

The 150 officers who will patrol Edinburgh's busiest streets in August have all been issued with new water refill bottles. Scottish Water has gifted the blue metal bottles to the all members of Police Scotland's Operation Summer City to encourage them to stay hydrated and to top up from the tap while on duty.
Some of the team came along to fill up their new bottles at the utility's water refill point outside the Scottish Parliament – and said the lightweight bottles would help them stay hydrated on the go.

Chief Inspector Murray Starkey, silver command for the operation, said: "I know all too well how tiring foot patrol can be when you are a police officer and having ready access to free and clean drinking water and a refill bottle can make all the difference, particularly during the summer months.
"We are extremely grateful to Scottish Water for supplying refill bottles to our officers who will be deployed as part of Operation Summer City when the population of the city doubles as visitors come to see shows and enjoy the party atmosphere.
"With the addition of the top-up tap outside the Scottish Parliament – which is part of our festival route - we can ensure our policing teams stay hydrated while they serve the community."
The 150-strong team is split into three groups to patrol the busiest areas, including George Street, the Royal Mile and George Square, from August 2 to 26.
PC Lyndsay Claxton, who is part of Operation Summer Season, said: "It can be thirsty work out and about all day especially during the busier, hotter months. These bottles look good, are light weight and will be so handy for us to top up on the go."
Scottish Water unveiled its first refill tap in Edinburgh last summer. The tap has proven a huge hit with visitors to the Holyrood area. The utility has since unveiled nine other refill taps with several more planned for the coming months.
Scott Fraser, Communities Manager at Scottish Water, said: "We are delighted to team up with Police Scotland and issue officers who will be on the beat during the busy festival season with a water bottle. We encourage them, and everyone else out and about in the city streets, to top up with fresh, clear and tasty Scottish water."
The taps are connected to the mains water supply and inspected regularly. The units digitally track how much water has been issued and records both the cost and plastic savings.