Aberdeen Youngsters Turn the Tide on Marine Litter
01 August 2019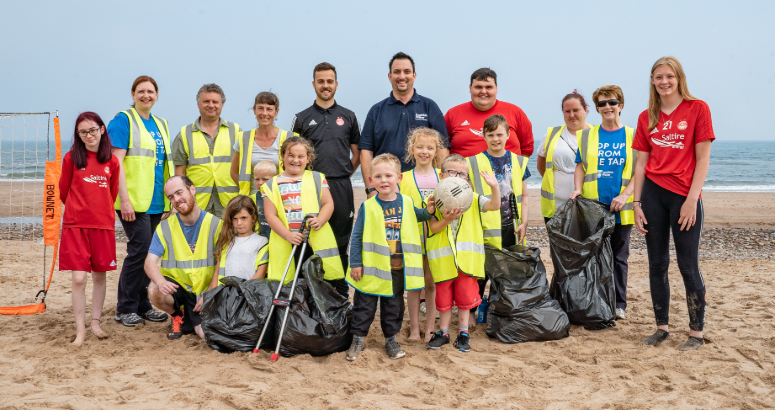 Every little bit helps!
Our water warriors did an incredible job in cleaning up a busy part of Aberdeen Beach while learning about the impact litter can have on the environment. Watch the video and read below to find out more. 
A group of young Aberdeen water warriors helped to clean up a popular section of Aberdeen Central Beach.

The littler pick took place during Plastic Free July, a globally motivated campaign encouraging people to consider how they can reduce levels of plastic waste generated in their daily lives. The challenge was organised as part of the ongoing partnership between Scottish Water and Aberdeen Football Club Community Trust (AFCCT).

The two organisations have been working together this year not only to encourage people across the North East to stay hydrated by drinking tap water direct from the tap, but also to help increase awareness of the environment and ways everyone can care for our planet and help make it a more sustainable place.

AFCCT's Food and Fun holiday programme partnered by Aberdeen City Council provides lunches for primary school children who receive free school meals during term time. The youngsters who attend took to the beach to learn about the types of litter that end up on our beaches. Investigating the litter collected, items such as bottle tops, wet wipes, a range of fragments of plastic, old ropes, crisp packets and tin cans were all found.

Ross McNeil, Aberdeen Football Club Community Trust Community Projects Officer, said: "The Food and Fun Programme is all about supporting young people by getting them involved in different activities and experiences over the summer. This has been a great opportunity to get outside, be active, work as a team and learn about the impact waste such as plastic is having on our own doorstep.

"It's a vital part of any young person's development that they get to grips with how the world around us is changing and how they can help to make it a greener, cleaner place - and why we all need to play our part in achieving that."

Clive Duncan, Corporate Affairs Officer for Scottish Water, said: "By working together to clean up part of Aberdeen's iconic beach, we've all gained an appreciation of what ends up in our oceans and how everyone can make small changes to help reduce the amount of waste in our society. Changes like carrying a refillable water bottle are a great way to stay hydrated and also reduce the amount of rubbish we each produce on a daily basis.

"It's been a really fun day - and great to work with the youngsters and the team from Aberdeen Football Club Community Trust. By taking action and making small changes to our lives, we make a big difference together to help look after our planet."

The day culminated in a kick-about between the youngsters, AFCCT and Scottish Water volunteers on the cleaned beach before the tide returned. The litter pick was organised through Aberdeen City Council who provided all the litter picking equipment and collected the litter afterwards.

The event was the second milestone in the partnership which was launched at the opening of Aberdeen City's Top up Tap, located on St Nicholas Street. The Top up Tap provides clear, fresh and great-tasting water to customers while on the go in the city centre.

The award winning Food and Fun Programme is delivered through a partnership between AFCCT, Aberdeen City Council and Active Schools and Community Food Initiatives North East (CFINE).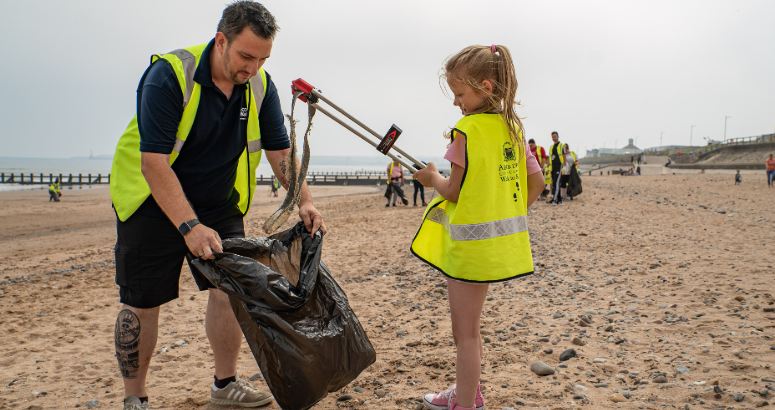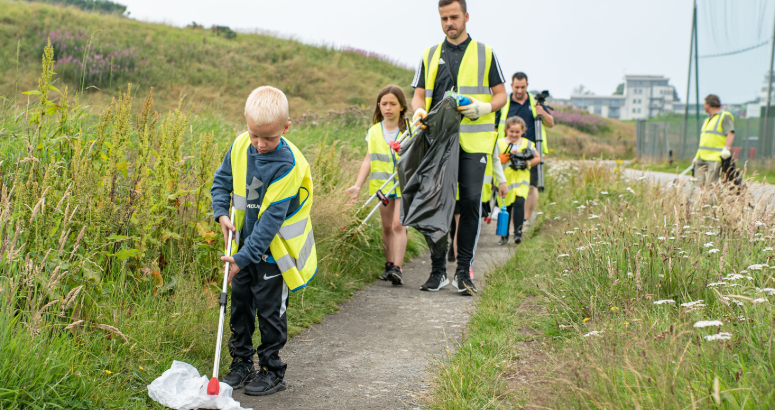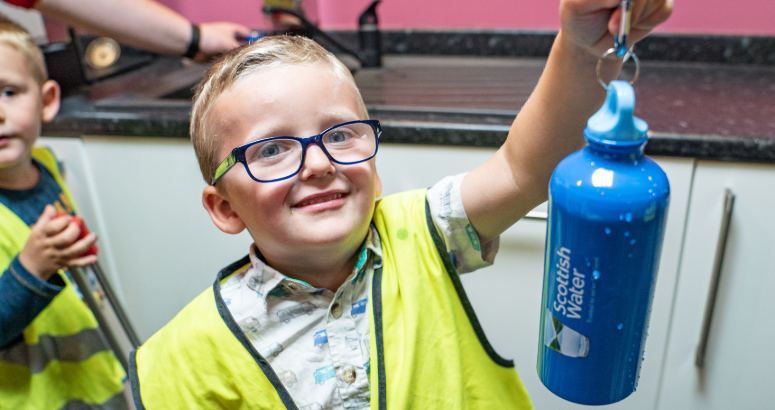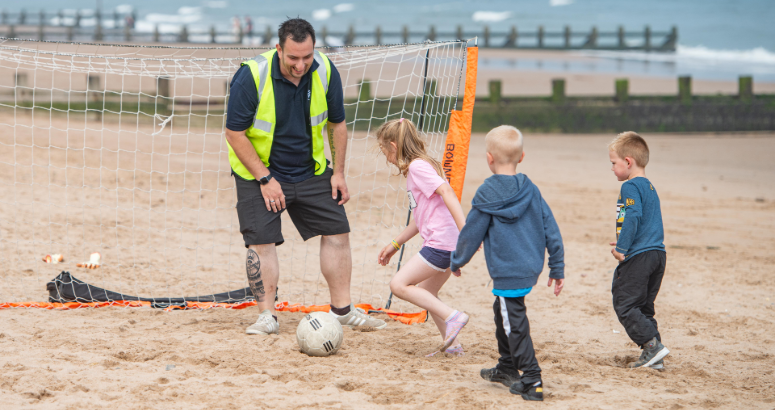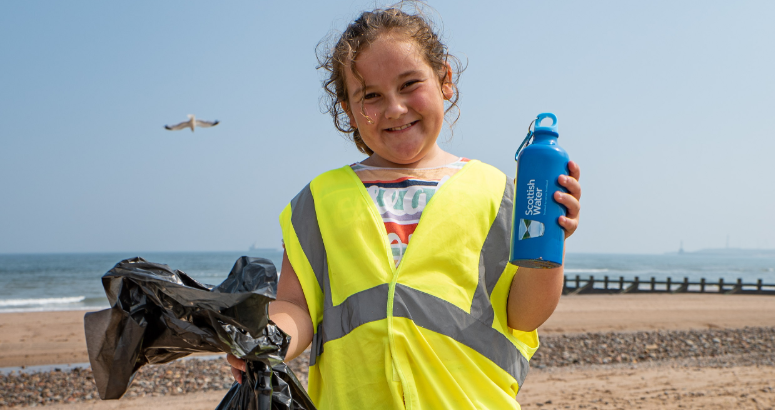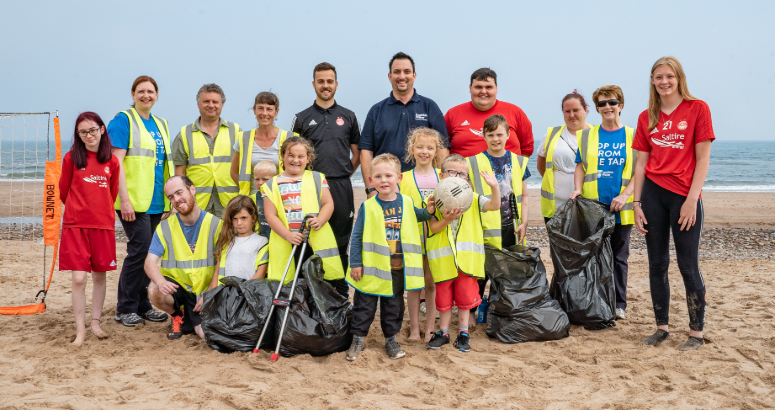 Litter picking in action!
A selection of images from the litter pick and beach kick about. Armed with their refillable water bottles staying hydrated was important, especially in the summer sunshine.