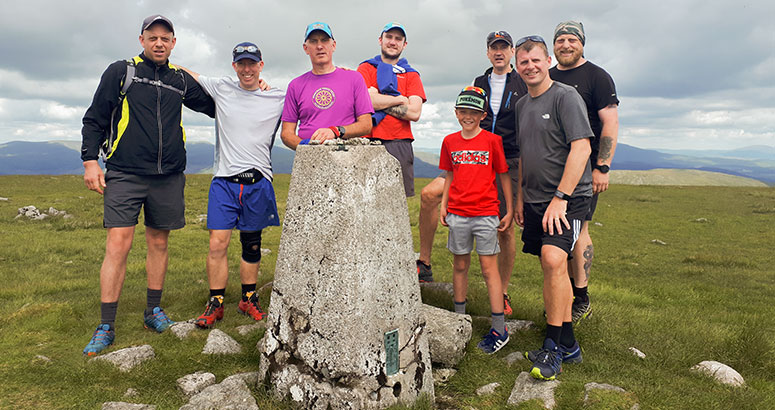 Mark (third from left) at the top of Cairnsmore with supporters
Mark has raised £1923 for his local Galloway Mountain Rescue Team
Tanker Driver Scales New Heights for Charity
01 August 2019
"It was tough - 36 hours on the go, going uphill then down and with no sleep. And for part of it, it was dark. But the feeling of achievement when I had completed it was incredible."

Mark Hannay
Tanker Driver, Scottish Water
A tanker driver for Scottish Water swapped wheels for running shoes to scale Cairnsmore of Fleet a staggering 14 times in just over 36 hours to raise money for a local mountain rescue team.
By completing the challenge Mark Hannay climbed the equivalent of heading to the top of Mount Everest with a total ascent of 29,260 feet.
By doing so he raised £1923 for Galloway Mountain Rescue Team, a charity he chose for the grueling challenge because of the "incredible work" the volunteers do round the clock.
The 46-year-old said: "Every year I set myself a challenge mid-summer time for charity and this year I decided to up the ante.
"Last year I cycled the 183 miles from Newton Stewart, my home town, to Newtonstewart in County Tyrone in Northern Ireland in one day - back again the next day.
"Being a local hill walker and runner I decided this would be the year of elevation and decided a Mount Everest attempt was order of the day."
Mark regularly visits up 711-metre Cairnsmore of Fleet, the highest of the so-called 'Solway Hills'. He worked out he would need to climb it 14 times to make the total climb the same as scaling Mount Everest.
The father-of-three set off at 3:55am on Saturday July 6 and returned home at 4pm the next day. Twelve of his friends and some of his family – including his two sons - met him at different stages of his 87.5 mile charity challenge to cheer him on. His daughter, who lives in Australia followed his progress via the internet and sponsored her father.
He stopped for only a handful of toilet breaks during his marathon fundraiser and to eat and drink enough to keep going.
Mark, who has worked at Scottish Water for 23 years, said: "It was tough - 36 hours on the go, going uphill then down and with no sleep. And for part of it, it was dark. But the feeling of achievement when I had completed it was incredible.
"People ask how I did it and I would say preparation is key, knowing how to pace yourself and knowing your route like the back of your hand. Having great and supportive family and friends also got me through and knowing I was doing this to raise funds for the brilliant mountain rescue team at Galloway.
"It was a lot different from my day job when I am driving a tanker to various sites across Dumfries and Galloway, but that is why I do it. I sit and drive around a lot at work so in my spare time I like to get outdoors and moving as much as I can. From one extreme to another, I guess.
Mark has been training to climb the same mountain 100 times in a year and was at his 79th attempt when he did this challenge.
Since finishing his challenge he has been back up the mountain four more time and aims to hit his 100 before the end of the year. He is also looking ahead to next year when he plans to undertake a Grand tour of Galloway hills for charity.
Ken McKenzie, Team Leader of Galloway Mountain Rescue Team said: "Mark is a wonderful character and a regular and much appreciated supporter of Galloway Mountain Rescue Team, not only because of the funds which he raises for our charity, but in the way he helps raise the team's profile through his amazing challenges. We are greatly indebted to him and his supporters."