Popular Pentland Walking Bridge Brought Back to Life
08 August 2019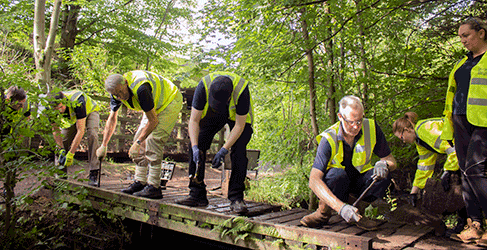 Our volunteers did a fantastic job on the footbridge. Watch the video here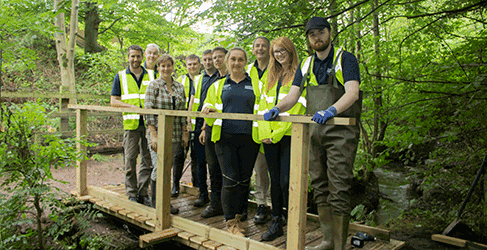 Volunteers working on Laverockdale footbridge
A team of volunteers have brought a popular wooden footbridge in the Pentlands back to life.
The footbridge at Laverockdale, which crosses Bonaly Burn next to Colinton, had become worn and staff at Pentland Hills Regional Park had been looking for it to be repaired as, although outside the Park area, it forms part of a vital link from the City..
The bridge is next to an area of the Pentland Hills where Scottish Water is carrying out a £20 million project to make the drinking water network in Edinburgh and beyond more resilient.
The work is being carried out by Scottish Water Alliance Partner Caledonia Water Alliance (CWA), and staff from the company organised the volunteer event after learning about the work which needed carried out.
A 13-strong team of volunteers – from Scottish Water, CWA and Pentland Hills Regional Park, spent a day dismantling the old footbridge and building a new one - complete with two handrails.
David Logan, Customer Liaison Officer at Caledonia Water Alliance, said: "This was a fantastic day of collaborative working to leave a positive legacy- literally spending the day building bridges in the community.
"We had been looking for a community project to get involved in to thank people in the Pentlands where are working and when we heard this bridge, which is very popular with walkers, needed work we thought it would be the ideal project to take on
"The three organisations involved issued a plea for volunteers and it was great to get 13 people along. It was hard work with lots of measuring, sawing and lifting and we were delighted engineers from Scottish Water came along as their expertise was very much in demand."
Fellow volunteer Gareth Herron, project engineer at Scottish Water, said: "Being able to build this fantastic bridge for the benefit of the people of Edinburgh for, hopefully, a good few years has been brilliant."
CWA and Scottish Water have been praised for the signage they have in place across the Pentlands letting people know about the work and highlighting any closure and alternative routes.
Tommy McManmon, Natural Heritage Officer at Pentland Hills Regional Park, said: "We were extremely grateful to receive the offer of materials and volunteers to restore the footbridge. This bridge is just outside the Regional Park boundary but it is forms part of an important access route into the Park and is frequently used by walkers, runners and dog-walkers.
"It was doubly rewarding to have such a keen, helpful and knowledgeable team from Scottish Water and Caledonia Water Alliance constructing the bridge. The finished bridge should last a long time and has already received praise from organisations such as the Colinton Amenity Association."
Scottish Water has almost completed the installation of 12km of brand new mains in the south of Edinburgh, including parts of the Pentlands. The investment will allow customers to be supplied from two different locations – Glencorse and Marchbank Water Treatment Works - making it less likely they are left without water.