Top Up Taps are Big Hit of the Summer
09 August 2019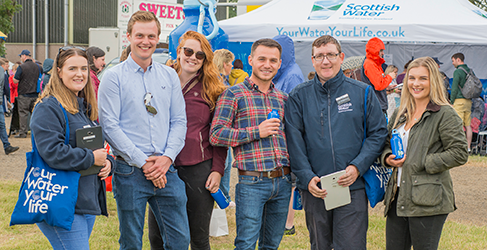 Thirsty visitors at Turriff Agricultural Show topped up from the tap to stay hydrated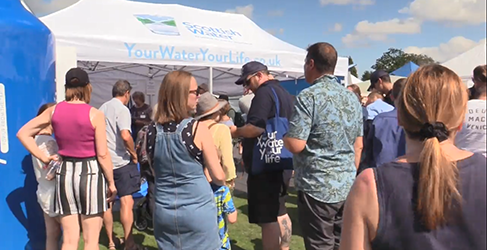 Thousands visited Scottish Water at Abyone Highland Games to get top tips for saving water
Scottish Water's Top up Taps have been a sensation on our summer road tour – saving more than 9,600 single use plastic bottles ending up as waste in our environment in just five days.

Thirsty visitors at three of the biggest events in the north of Scotland queued to fill up their reusable bottles at the temporary taps, as part of our Your Water Your Life campaign.

Thousands topped up from the tap to stay hydrated at the Black Isle Show, Aboyne Highland Games and Turriff Agricultural Show as we gave out almost 6,000 iconic blue Scottish Water refillable bottles.

Our volunteer teams were on hand to offer top tips to save water in and around the home as we aim to encourage everyone to love their water, stay hydrated and care for our planet.

We're on the road all summer to share our nation's love of water at some of the country's biggest events, spreading the word about the vital part water plays in our lives every day.

Brian Lironi, Director of Corporate Affairs, Scottish Water, said: "I was part of the team at the Aboyne Highland Games and it was fantastic to talk to so many people who were passionate about Scotland's water and how we can all do our bit to be kind to the environment.

"Carrying a refillable bottle is something almost everyone can do and it's these little things that can make such a big difference."

Since Your Water Your Life launched last summer, a network of ten Top up Taps has already been installed in towns and cities across Scotland with more planned in the coming months.

Look out for our temporary Top up Taps at Brodick Highland Games, Skye Live, Dundee Pride and the Dumfries Half Marathon. We've got great advice on how you can save water, games to play and our iconic blue refillable water bottles to give away.