Top Up Taps Network Set to Grow Across Scotland
22 August 2019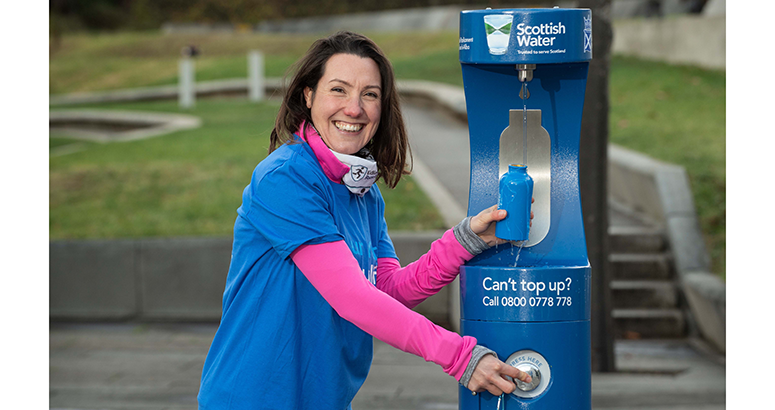 Network Expands
Water drinkers like Edinburgh runner Nicole Wright have embraced our Top Up Taps some the first one was installed at Holyrood, Edinburgh.
"We hope it becomes the norm for people to take a reusable bottle out with them and fill up from state-of-the-art taps."

Brian Lironi
Director of Corporate Affairs, Scottish water
Scotland's network of hi-tech Top Up Taps is set to expand across the country to encourages more people to use refillable water bottles.

We installed the first Top Up Tap outside the Scottish Parliament in Edinburgh last October, with a further nine rolled out across Scotland from Inverness to Dumfries.
It's estimated that people filling up from the Top Up Taps to date is, in total, the equivalent of around 90,000 standard 330ml plastic bottles.

The success of the first 10 taps, which forms a key part of our 'Your Water Your Life' campaign, has led to a commitment to have a total of 70 Top Up Taps installed over the next 18 months.

Exact locations are yet to be confirmed, but we aim to ensure there's a tap in every one of Scotland's 32 local authority areas. One is also planned for the Loch Lomond and Trossachs National Park while discussions will take place with local communities on the sites of the remaining taps.

The Your Water Your Life campaign encourages people to top up from the tap to benefit the planet, their health and their pocket.

Brian Lironi, Director of Corporate Affairs at Scottish Water, said: "We're passionate about our Your Water Your Life campaign and it's been brilliant to see that the public share this passion based on the high usage of the first 10 Top Up Taps.

"We started this as a pilot project but the response has convinced us of the opportunity to expand the number of taps available so that even more people can enjoy our fantastic and great tasting Scottish drinking water.

"Even though we have started on a small scale, we estimate the usage of the taps has resulted in the equivalent of almost 90,000 standard 330ml bottles being filled up. That's shows the growing interest from the public to fill up their reusable bottles.

"We hope it becomes the norm for people to take a reusable bottle out with them and fill up from state-of-the-art taps."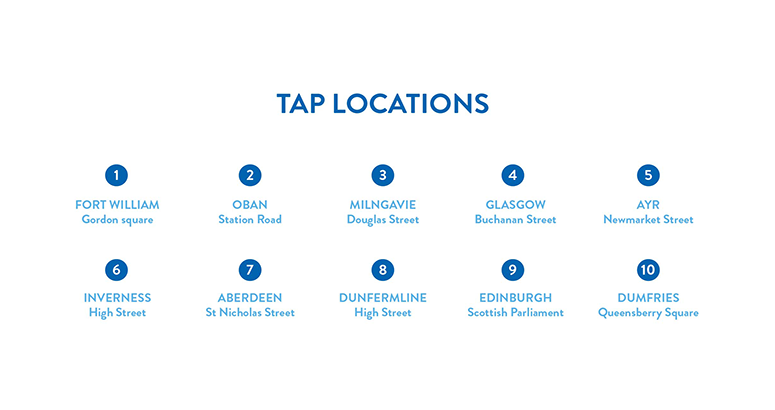 Growing Network
Our network of Top Up Taps is set to grow to 70 over the next 18 months.
The first ten Top Up Taps are located in: Fort William; Oban, Milngavie; Glasgow's Buchanan Street, Ayr; Inverness; Aberdeen; Dunfermline; Dumfries; and outside the Scottish Parliament in Edinburgh.

The new taps are plumbed directly into the public water supply and each has digital tracking technology which logs how much water is being used and how much plastic potentially saved.

The latest reviews show the most popular tap is at Buchanan Street, Glasgow, closely followed by Milngavie, at the start of the West Highland Way.

Brian added: "The aim of the Your Water Your Life campaign is to make the tap the first port of call for people wanting to enjoy water.

"Of course, there needs to be easy access to Top Up Taps to allow people to refill when out of their homes or workplaces - so we're proud that we're the ones helping to create the infrastructure across Scotland."

Clear, fresh drinking water is known to help boost concentration levels with Scottish Water delivering more than one billion litres of water a day to customers.

NHS Choices recommend drinking six to eight glasses of water per day, while people often mistake hunger for being thirsty, which means drinking water can help weight loss.