Kids Dive In at Learn to Swim's First Outdoor Class
27 August 2019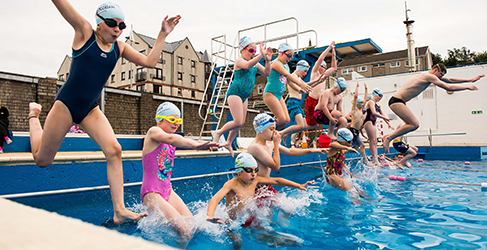 Making a splash at Gourock Outdoor Pool in Inverclyde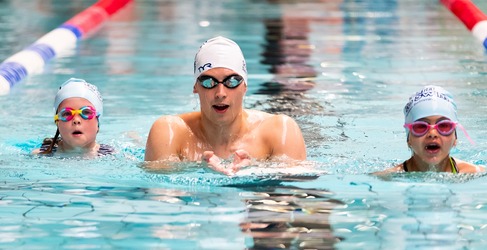 Kids swimming with Olympic swimmer Stephen Milne at Perth Leisure Pool
"The event at Gourock Outdoor Pool has been an unforgettable experience for us all."

Euan Lowe
CEO, Scottish Swimming
Young swimmers made a splash in an outdoor pool this weekend as warm weather hits Scotland.

Record-breaking Olympic medallist Duncan Scott, who proudly takes on the role of Learn to Swim ambassador, joined over 30 kids in a once-in-a-lifetime swim class.

The event saw them celebrate the success of the Learn to Swim programme in Inverclyde in partnership with Scottish Water and Scottish Swimming 24th August at scenic Gourock Outdoor Pool - the first time a celebration event for the national swimming framework has been hosted in open air.

Scottish Water and Scottish Swimming are working together to roll the national Learn to Swim framework out to more than 100,000 children across the country.

As the popular programme expands, Inverclyde Leisure is now looking for over 200 more local kids to sign up to the programme. A further 50 spaces are available for children aged three to five years old in the Learn to Swim pre-schoolers class.There are also over 100 spaces available for two other beginner-level classes.

Steven Low, Swim School Co-ordinator at Waterfront Leisure Complex, said: "Local parents love the Learn to Swim programme – it's been a major success as we see kids improve their skills on a weekly basis.

"Due to the success of our event held over the weekend we're encouraging those interested to come forward to learn about the additional classes and book their kids in before all spaces are full".

Inverclyde Leisure's Learn to Swim classes are offered at the Waterfront Leisure complex and Port Glasgow swimming pools.

Olympic swimmer Stephen Milne returned to his roots, joining children at Perth Leisure Pool to celebrate the success of the Learn to Swim programme. There are already almost 2,500 youngsters of all abilities in the Perth Live Active Leisure Programme.

Local hero Stephen, who was quizzed by the kids for his top tips and advice, said: "I've had a great day here in Perth where I started my own swimming journey through Learn to Swim, club swimming and into the performance pathway supported by Live Active locally, Perth City Swim Club and Scottish Swimming."

Phil Coleman, Sport Manager at Live Active Leisure, said: "We've worked hard to ensure a seamless transition to the new framework and we're delighted to be part of the national programme. Having Stephen support our official launch is fantastic – he's a local hero here and an inspiration to all the local children!"

Euan Lowe, CEO of Scottish Swimming, said: "The event at Gourock Outdoor Pool has been an unforgettable experience for us all. It's a beautiful, coastal setting and it was great to see the youngsters taking top tips from our Olympic swimmer."

He added: "Perth is a real community hub for Learn to Swim, club swimming and recreational fun swimming. It's fantastic to see Perth committed to making sure that local kids get to learn this essential life skill."

The lessons are delivered by local Leisure Trusts and aquatic providers. The initiative is already helping more than 78,000 children of all abilities across Scotland become safe and more competent swimmers.

Brian Lironi, Director of Corporate Affairs for Scottish Water, said: "Working together with Scottish Swimming, allows us to reach almost 1,500 local kids in Inverclyde and more young people across Scotland to ensure they have the key life skills they need to be safe and confident in and around our country's coastline, rivers and lochs.

"It is vital to catch children as young as possible so they – and their parents – realise how valuable, and enjoyable, learning to swim can be."

The Learn to Swim Framework helps to create quality Learn to Swim environments for children from birth upwards where they can become competent, confident and safe swimmers with opportunities to progress through the aquatic pathway and to swim for fun.