Limekilns Beach Pipe Project Completed
03 September 2019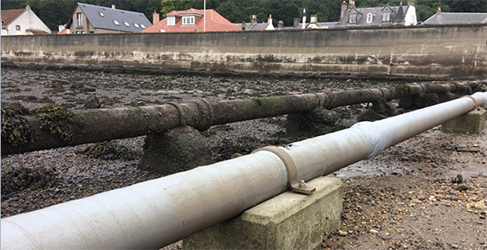 Limekilns new outfall pipe project is now complete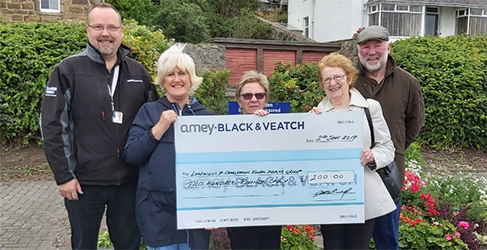 aBV hands over £200 cheque to Charleston Floral Dsiplay Group
Scottish Water has completed a £500,000 investment to help improve the local waste water network and protect the natural environment at Limekilns beach.
The work involved replacing a 265-metre long cast iron outfall pipe on Limekilns beach along with building 45 new concrete supports to hold it above the seabed. All the piping was covered with an extra durable weather-proof wrap given its location.
Work began in mid-June and the project has now finished two weeks ahead of schedule.
The work was delivered by our alliance partners amey Black & Veatch (aBV) during summer to protect winter wading birds.
Scott Fraser, Regional Communities Manager at Scottish Water, said: "This essential work was carried out to upgrade the old waste water pipe at Limekilns which was of an age it had to be replaced.
"While most of the work took place on the beach we have had some traffic management and a cabin on site and we thank the people of Limekilns for their patience while we were in the area."
While at the site, the project team from aBV helped members of Limekilns and Charlestown Floral Display Group repair flower displays at the village's pier which were totally destroyed after an oil spill at the beach earlier in the year.
Fiona Philp, a volunteer of the group, said: "The team helped in a number of ways including laying gravel and pebbles, lifting out tree stumps, planted bushes and helping transport sea cobbles from Charlestown.
"They really helped our wee village come back from an environmental disaster, their help was invaluable and they were absolute gems."
She said judges from Beautiful Fife were "very impressed" with the new floral arrangements which they came to judge last month and are hopeful the village could win an award this year.
The team at aBV this week donated £200 to the Charlestown Floral Display Group to be used to pay for winter flowering bulbs and new flower pots. It will also donate £300 to Limekilns to Charlestown & Pattiesmuir Gala group.
Charlestown, Limekilns and Pattiesmuir Community Council also praised the team's work. Secretary Martin Callanan said: "Everyone was impressed with the hard work, provision of information, and tidiness of the works. The extra work on the flower beds was highly appreciated."