BLOG: Using Solar PV on Our Journey to Net Zero - Roddy Speirs
26 September 2019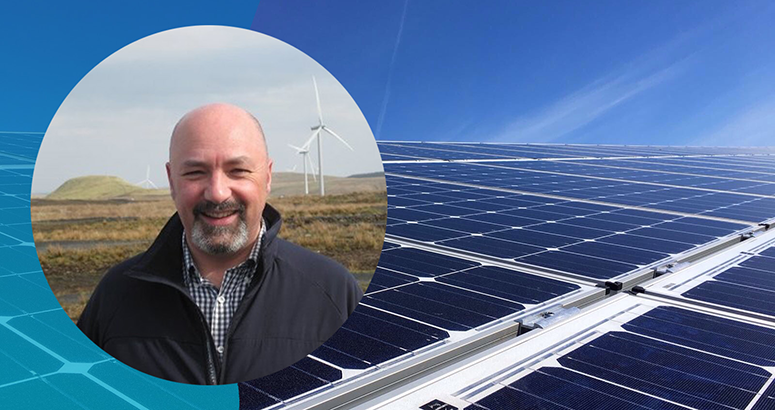 Solar Power
Renewables Project Manager Roddy Speirs is working to help Scottish Water reach its ambitious target of net zero emissions by 2040.
"People are realising the significant impact that global
warming will have on our precious resources."

Roddy Speirs
Low Carbon Project Manager, Scottish Water Horizons
As a Low Carbon Project Manager in Scottish Water Horizons, I'm no stranger to the challenges ahead in the face of global warming.
It's impossible not to be aware of climate change these days and we can no longer ignore the issues.
The Scottish Government declared a climate emergency in April, announcing their ambitious plan to become carbon neutral by 2045. Scottish Water responded to this by committing to net zero by 2040, a full five years earlier.
In my role with Scottish Water Horizons I look at developing low carbon energy projects on our many assets, exploring ways we can generate green energy, whilst saving money on energy costs, and in turn help keep household charges low.
I've worked in low carbon energy for 15 years and I've seen a huge change in the technology used to generate green power.
People thought solar photovoltaic (PV) panels would only work in the South of England, where it's sunny. But PV technology has come on leaps and bounds and PV panels can actually generate up to 25% of their capacity in cloudy weather.
Solar energy is the most abundant source of energy we have, with enough solar energy hitting the earth every hour to power the whole planet for a year.
So even though we're not exactly known for our sunny climate here in Scotland, solar PV is still a really effective, low carbon way for us to generate energy.
We've already installed solar panels on 42 Scottish Water assets, offsetting around 6.3 GWh of our energy requirements – that's enough to power over two thousand homes every year.
We're looking to increase this number over the next year with a further four projects already approved for construction and more projects being investigated.
Part of my role is to look at the future of renewable technology and how we can continue to reduce our carbon footprint, using the likes of floating solar panels which produce hydrogen to be used as fuel, or storing the energy generated by existing projects to maximise our green power.
What's really encouraging is the huge change in public attitude towards climate change and as a result, renewable technology.
How many of us have thought that a few extra warm summer days in Scotland would be a good thing? Unfortunately that's not really how it works. What it means for us is more unpredictable and extreme flooding and droughts, rising sea levels and a huge change in the way that we do things now.
Today I'm attending the Scottish Renewables annual Solar Conference to hear from industry leaders about the future of solar energy. I'm looking forward to hearing more about the latest innovations in solar technology, how we can maximise battery storage from solar generation and how we can all rise to meet the challenges of achieving net zero carbon emissions in line with the Scottish Government's targets.
I'm proud to work for a company that is leading the way in reducing its carbon footprint and proud to work with so many people who realise something has to be done and are taking action.