Call to Be Water Efficient After Millions of Litres Saved
07 October 2019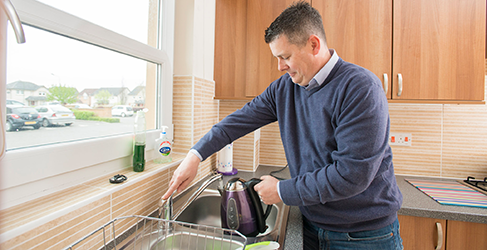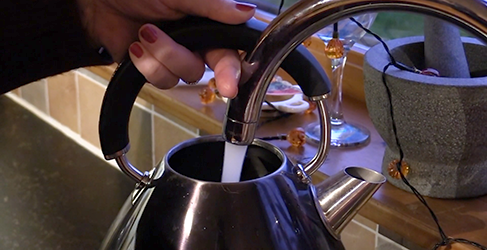 As Climate Week kicks off in Scotland, households across the country have saved 80 million litres of water in a water efficiency drive, Scottish Water can reveal.

Water efficiency advice and devices have been given to thousands of homes and the water saved is enough to fill 32 Olympic sized swimming pools or 53 million full kettles.

Now we're calling on even more people to join the drive to reduce their daily water usage. We're working in partnership with the Energy Saving Trust and Home Energy Scotland to help households save water, energy and money.

Since 2017 Home Energy Scotland has attended a host of events giving water efficiency advice and water saving devices to 30,000 households across the country.

This equates to around 80 million litres of water saved which would result in a reduction in a carbon footprint reduction of about 240 tonnes of CO2 equivalent – enough to heat almost 90 homes for a year.

Now we want more people to use water wisely and take simple steps to save water such as taking a shorter shower or only boiling what you need in the kettle. This will help the environment, with more water in our rivers, lochs and reservoirs.

Brian McCarthy, Scottish Water's reservoirs and supply demand manager, said: "These new figures show that a massive amount of water has been saved by people across Scotland after we have issued great water efficiency advice and provided devices such as shower timers and tap aerators to thousands of households.

"We would urge everyone to do what they can to reduce consumption of this precious resource and in turn help the environment and save money through reduced energy bills."

Water use accounts for 6% of UK carbon emissions, which is the same as the aviation industry - 1% of this is from collecting, treating and pumping drinking water to homes.

A huge amount of energy goes into making tap water safe to drink and Scottish Water is one of the largest single users of electricity in Scotland.
Our aim is to increase the amount of energy we generate or host by 300% more than the energy consumed.

Everyone can do their bit and reap the benefits. Around one fifth of household heating bills are spent on heating water. By using water wisely, a family of four can save 0.7 tonnes of CO2 and over £100 in reduced energy bills each year.

Last summer, Dunkeld and Birnam reached out to Scottish Water to ask the utility to support them in taking action on climate change.

We set them a challenge to save one million litres of water over a year by using our water efficiency advice and devices.

This summer Dunkeld and Birnam was named Scotland's first water efficient village after they exceeded their challenge, saving the equivalent of 3.5 tonnes of CO2.

*The CO2 figures are tonnes of 'CO2 equivalent' as they include other greenhouse gases, e.g. methane.