Capitals' Pupils Water Network Challenge
15 October 2019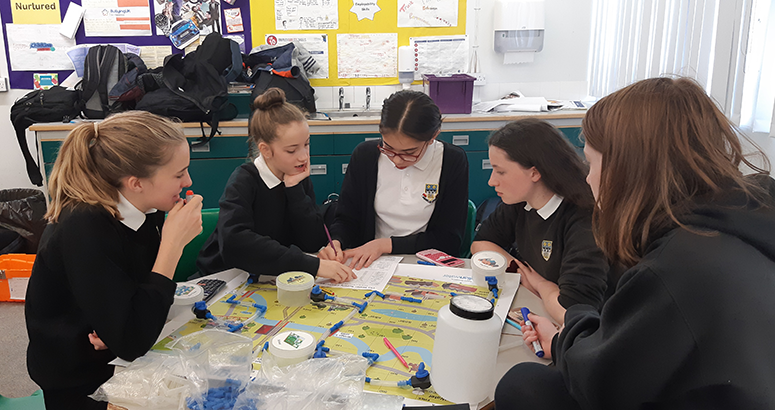 Challenge Accepted!
A team from Currie High School get stuck into the Water Supply Challenge
Pupils at Currie High School discovered the practical challenges involved in a real-world engineering project at an educational event held by Scottish Water.
They took part in a Water Supply Challenge, an interactive game which challenges teams to design, cost, build and test a fully functioning water supply within a set time.
S3 pupils at the Edinburgh school took part in the game aimed at helping develop vital skills they will need for entering the job market or continuing in further education.
eams are supplied with a range of materials including pipes, valves, connectors and a large map where they build their network, working under constraints that mimic the real world regulations and restrictions Scottish Water face. It is designed to test and enhance a number of different skills, where young people design, plan, build and test the water network.
Scott Fraser, Regional Communities Manager at Scottish Water, said: "The challenge is a fantastic way to engage with students, giving them an opportunity to gain an insight into what Scottish Water does and develop skills that could help them decide their future careers. The teams from Currie High School were very enthusiastic and were interested in learning the challenges you face and have to overcome to provide people with water."
Volunteers from Scottish Water helped the pupils with their designs and also spoke about their roles within Scottish Water and the types of jobs available at the utility.
Donald Hearn - Project Manager at Scottish Water Horizons, which is currently delivering a water mains improvement project near the school - said: "It was great to work with the pupils showing examples of the type of work we do in Scottish Water and what is involved in supplying water to our customers. It was also good to promote the Science, Technology, Engineering and Maths (STEM) subjects and provide information on the type of jobs these can lead to."
The event was part of Scottish Water's commitment to the Scottish Government's Developing the Young Workforce programme.
John Scmitt, Deputy Head Teacher, Currie Community High School said:
"It was a great experience and informed students about different pathways and opportunities too. We will be definitely be asking Scottish Water back next year!"