Beat Bogus Callers and Follow 3Cs Advice this Winter
21 October 2019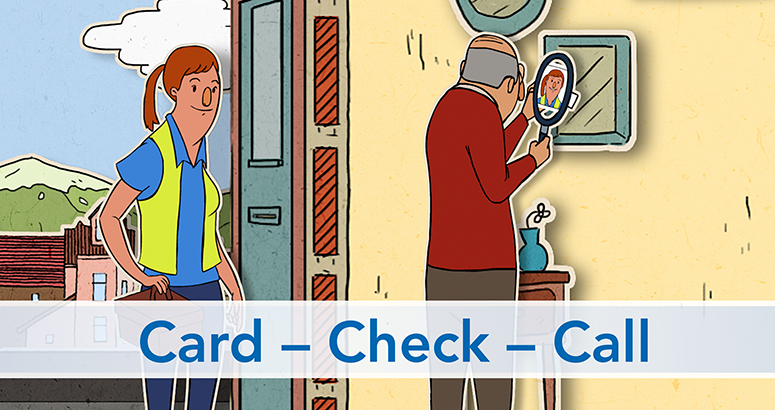 3Cs Rule
Follow three simple steps - CARD, CHECK and CALL - to beat doorstep conmen.
We're urging customers to help stop bogus callers by using the three Cs rule to beat conmen who might take advantage of the clocks going back.

Householders should follow three simple steps – CARD, CHECK and CALL – to confirm the identity of anyone calling at their door asking to carry out work.

With clocks going back this weekend, customers are being asked to be vigilant with the onset the winter months.

Last winter there were seven incidents of bogus callers across the country with conmen purporting to be carrying out work on water networks.

Scottish Water Chief Operating Officer, Peter Farrer, said: "Scottish Water employees are in local communities every day of the year and are highly visible. Unfortunately, there are some who take advantage of the essential work we do by posing as bogus water employees.

"We would like to remind all our customers of our essential advice – if we knock on your door, check our photo ID and follow our Three C's rule: Card – Check – Call. All our employees, and anyone working on our behalf, carry photo ID which they will happily show on request – so don't let anyone into your home until you are sure of their identity.

"If you are on your own or feel you need more support then call a neighbour or a friend. If you are unconvinced by a caller to your door, contact the police straight away. Our advice is easy to remember – just 3C's – Card, Check and Call."

To find out more about the 3Cs rule, visit our Bogus Callers page below.
Discover More