Volunteers Help Light Up Callendar Park
18 November 2019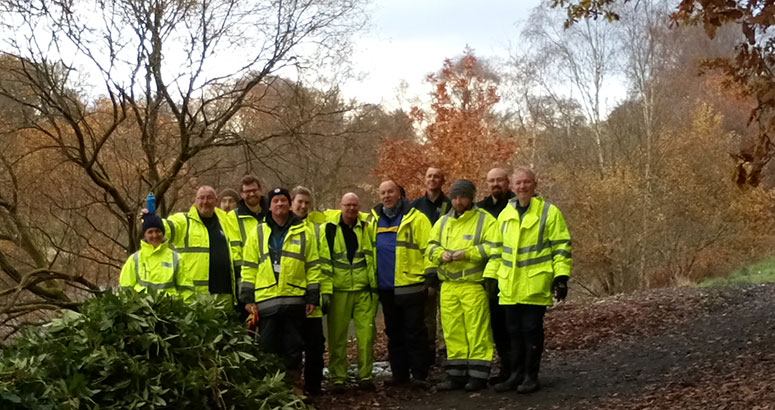 Volunteers at Callendar Park
Thirteen Volunteers helped with various tasks around the park
A team of volunteers from Scottish Water spent a day helping to upgrade parts of historic Callendar Park.
Thirteen volunteers from the utility's Skills Academy Team carried out various tasks to support Falkirk Community Trust, which is responsible for the popular attraction.
The team installed solar lights on the edge of pathways and built 14 wooden benches in the 170-acre park.
They also installed Roman-themed wooden roundals for youngsters to use in the children's play park and hand cleared the invasive rhododendron on the loch side.
The volunteers were able to top up with water at the newly installed Scottish Water refill tap located near to the park's Callendar House – the first ever refill tap in a park.
Gillian McFarlane, who organised the event for Scottish Water team, said: "We had a brilliant day helping out in beautiful Callendar Park. Building the benches was a big task but with 13 of us on hand we managed to get them all done in half a day.
"It was very rewarding knowing that these benches would be for people to enjoy around the park and then chopping back overgrown rhododendrons so the loch side was improved. It was great to do something to help the community there as well as spend time outdoors and work alongside colleagues doing something different to our normal day job. And to top it all it was great to be able to top up from the new Scottish Water refill tap there – all that hard work was thirsty work."
Phil Hannah, Parks Officer at Falkirk Community Trust, said: "I want to thank the Scottish Water volunteers spending the day helping at Callendar Park. They got so much done and park users will appreciate their handiwork."
All Scottish Water staff are entitled to two days of leave every year to volunteer and help in the community.
Top Up Taps ae being installed across Scotland to make it easier for more people to stay hydrated while on the go. A total of 70 taps are set to be launched in the next 18 months.