A 'Dam' Good Solution For Environmental Project
20 November 2019
Engineers working in Glasgow's West End have turned to dam building techniques during the latest phase of a multi-million pound project to help improve the environment and water quality in the River Kelvin – just like beavers, the ultimate aquatic engineers!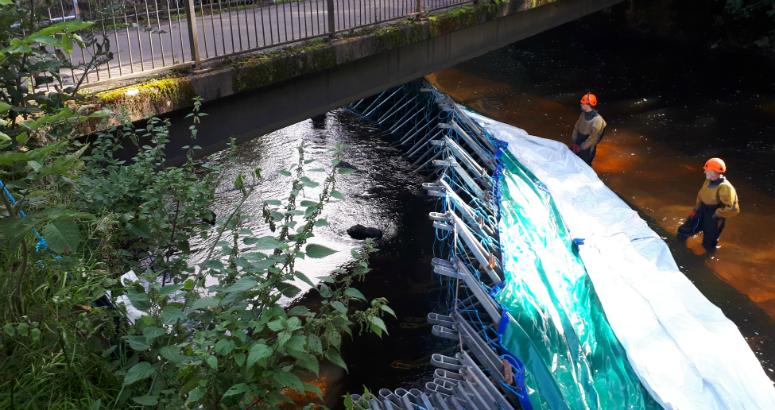 Dam Technology on River Kelvin Environmental Project
A temporary dam-like structure near to the River Kelvin Walkway means engineers can work safely.
A temporary dam-like structure has been erected to allow engineers to work safely at the River Kelvin near to the Old Flint Mill on the River Kelvin Walkway while they stabilise the river bank and construct new waste water infrastructure.
Speaking about this novel solution which engineers adopt when working near to watercourses, Paul Milligan, aBV Communication Manager explained: "Our site team has been faced with heavy rainfall over the past few months and the high river level has made working conditions pretty challenging. By creating a false embankment, the dam helps divert the water away from the river bank and means that the engineers can go about their work and keep the river flowing. It creates much safer working conditions and it's been quite a talking-point for the Kelvin Walkway users interested in the work that's going on here."
The £15m environmental project in the west end of Glasgow is being delivered by our alliance partner amey Black and Veatch (aBV) and involves the installation of new and improved waste water infrastructure at 11 separate locations along the River Kelvin.
This new infrastructure will help prevent items which are wrongly flushed down the toilet – items like rags, baby wipes, plastic cotton buds, etc. - from overflowing into the River Kelvin during severe storm events and reduce the frequency and volume of waste water spillages in storm conditions.
Discover More