Fife Midwives Help Keep Water Cycle Flowing
16 December 2019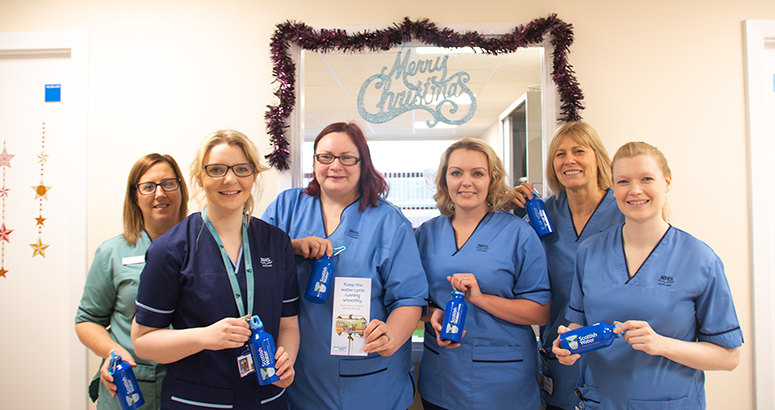 Delivering the 3P message
As a thank you for helping us promote the cycle campaign, the team were given our iconic refillabe water bottles.
Midwives are helping keep the water cycle flowing in Fife by urging expectant mums to think before they flush.
Scottish Water joined forces with NHS Fife midwives six years ago to promote its 'Cycle Campaign'. Since then almost 9,000 women who have been seen by midwives at Queen Margaret in Dunfermline Hospital have been given a leaflet detailing what should not be disposed of down toilets aswell as sinks and drains.
The 14-strong midwife team out the Scottish Water leaflet in information packs given to mothers when they visit for their first check up after finding out they are expecting.
Scott Fraser, Communities Manager at Scottish Water, said: "For the last six years we have been working with midwives at NHS Fife to get our message out to new parents to ask for their help to reduce the number of sewer blockages in the area.
"We have seen a reduction in the number of call outs we have to blockages in some most areas of Fife so far this year, which is great news. But there have been more than 3,000 blockages across Fife – and the vast majority will have been caused by non-flushables like wet wipes, sanitary products and cotton wool being out down the loo and fats, oils and grease being out down sinks.
"It is great to work in partnership with the midwives at NHS Fife to spread this message – and we want to thank everyone doing their bit to keep the cycle running. This protects the environment by reducing the risk of flooding which can pollute our rivers and beaches."
Staff from Scottish Water visited the hospital to hand over more leaflets for NHS Fife team to continue adding to the information packs for new mums.
The joint campaign started back in December 2013 when Scottish Water approached midwives at Queen Margaret Hospital in a bid to try and reduce blockages in the area which had become a blockage hotspot for the utility. Since then there has been around a reduction in the number of blockages Scottish Water's response team have to attend, by around 15 per cent. Across Scotland the utility attends an average 95 blockages in the sewer systems every day – at a cost of £6.5 million a year.
Janice Quinn, Community Midwife Team Leader, said: "We are delighted to continue to work closely with Scottish Water by helping raise awareness of the importance of disposing of items in a responsible way. We know the mothers we engage with on this share the message with their wider families and are delighted this has resulted in a reduction in blockages in Fife."
Facts:
Blockages in the sewer network can lead to waste water flooding into gardens and properties, causing a health hazard to wildlife and the local environment
Blocked sewers can spill into burns, rivers, streams, coastal waters and beaches, causing environmental damage
Scottish Water deals with 35,000 blockages every year – cost of £6.5 million
The waste water drain which runs from your house to the public sewer is usually only about four inches wide, which is less than the diameter of a DVD.
Everything you put down your plugholes, toilets and drains will all end up in the drains and sewers