Water Sector Partners Back Ambitious Plan
05 February 2020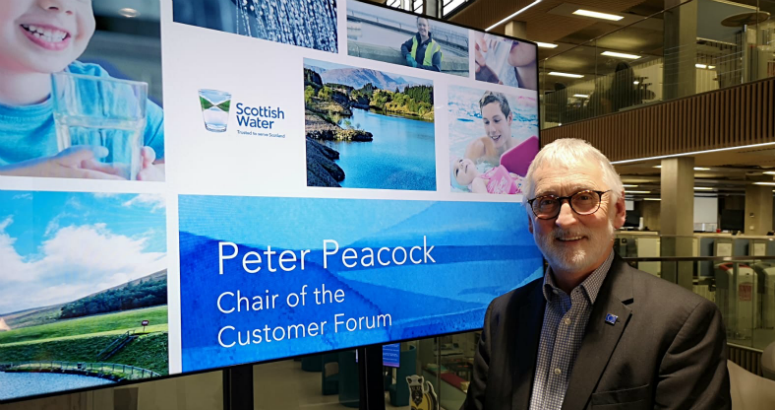 Partner Support
Peter Peacock, Chair of the Customer Forum, highlighted the huge part Scottish Water will play in helping Scotland flourish.
Scottish Water's partners across the sector have voiced their support for the 25 year sustainable water plan - Our Future Together.
It outlines our commitment to deliver future investment in vital infrastructure and assets, using innovation and sustainability to tackle climate change challenges and support economic growth.
Peter Peacock, Chair of the Customer Forum, said: "Scottish Water is a vital publicly owned service playing a huge part in helping Scotland flourish.
"It is in all our interests that Scottish Water it is fit for the purpose of helping fight the climate emergency and maintaining the high quality of customers' water and waste water services.
"The Customer Forum for Water has agreed the Strategic Plan published today rises to meet those ambitions, reflecting people's needs and aspirations.
"Scottish Water must now share the challenges of achieving its strategic outcomes, seeking to put customers and communities at the heart of all it does."
Derek Mitchell, Chief Executive, Citizens Advice Scotland, said: "We are pleased to have been involved in discussions with Scottish Water about their future plans and we welcome the publication of this document.
"Our objective is always to ensure that the consumer interest and voice is at the heart of public policy and practice, and we believe this document reflects that principle.
"People across Scotland deserve a water service which is safe, clean, efficient and affordable. We believe this strategic plan commits to those standards and we will continue to work with Scottish Water to support their delivery."
Terry A'Hearn, Chief Executive of the Scottish Environment Protection Agency (SEPA), said: "With the scale of the environmental challenge facing humanity driving a real urgency to act, we're delighted to be working so closely with Scottish Water.
"The 25-year strategic plan is both ambitious in its aspirations for systemic change and recognises the realism of continuing to prioritise local environmental excellence. "
Sara Thiam, Chief Executive of Scottish Council for Development and Industry (SCDI) said: "A long term vision is central to any effective plan and Scottish Water's commitment to ensuring Scotland continues to benefit from high quality water whilst ensuring the environment is at the heart of future decision making is welcome.
"They make their contribution to reducing emissions clear and their target of achieving net carbon zero by 2040 is significant.
"The plan also addresses the need to ensure the infrastructure we depend upon is able to cope with climate change whilst meeting the needs for sustainable economic growth. A wide range of customer views and stakeholder input have clearly informed the development of the plan".
The Water Industry Commission in Scotland (WICS) has also responded to the publication of our plan.
Read their response.