Students Tour Waste Water Site
13 February 2020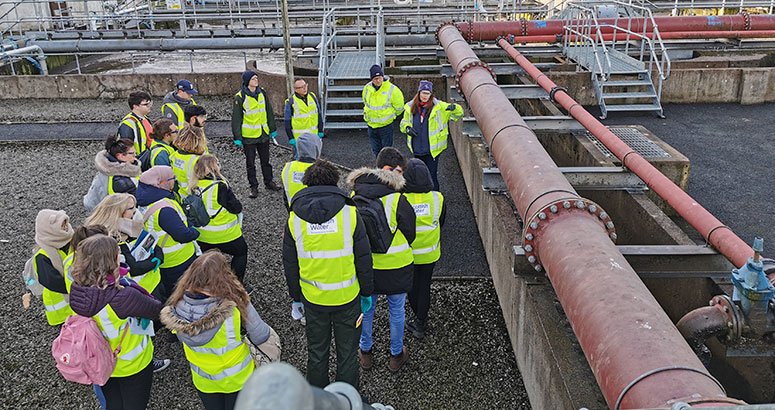 Glasgow University Students on Tour
Students learnt how waste water is processed by Scottish Water at its Troqueer Waste Water Treatment Works
Students were given a behind-the-scenes tour of one of Dumfries and Galloway's biggest waste water treatment sites.

They learnt about how waste water is processed by Scottish Water at its Troqueer Waste Water Treatment Work in Dumfries, which has the capacity to cater for a population of up to 50,000.

The 46 students from the University of Glasgow were shown round the site by Fiona Butcher and Jamie Hesketh, the process scientists who work at the site. They told them how the waste water treatment process works and the role of the sludge treatment centre at the works.

The group – who are taking part in the Environmental Science and Sustainability programme in the School of Interdisciplinary Studies at the university's Dumfries campus – were shown round the WWTW's and told how each of the process units work and its use in the treatment of the sewage prior to discharge to the environment.

Senior Lecturer Dr John Shi said: "It was a fascinating visit to the Troqueer Wastewater Treatment Plant that provides a vital service to the area.

"Through this visit, our students, who are studying the year-1 course Introduction to Environmental Science, have the chance to see a number of treatment pieces of equipment and processes. It is really helpful for them to improve their understanding. As the course convener, I really appreciate Scottish Water and the Waste Water Treatment Team for offering this opportunity."

One of the students, Angel Perez Ramos, said: "It was a very interesting field trip, especially for my peers who are interested in water treatment as a future career path. I found the use of bacteria in the wastewater treatment method incredibly interesting and useful.

"The fact that they reused some of the materials from the process in agriculture and other industrial areas makes the plant more attractive."

Eddie Murray, Waste Water Treatment Team leader at Scottish Water, said: "It was great they were so eager to learn about our work and who knows, we may have inspired some of them to take up a career in the water industry in the future."

Troqueer treatment works is located in the south west of Dumfries. Scottish water invested £14m in the site in 2011 which led to sludge at the site - the dry residual product that remains once waste water has been treated – being treated in a state-of-the-art system and recycled as a fertiliser for local farmers.