Fife Pupils Pledge to Protect the Planet
24 February 2020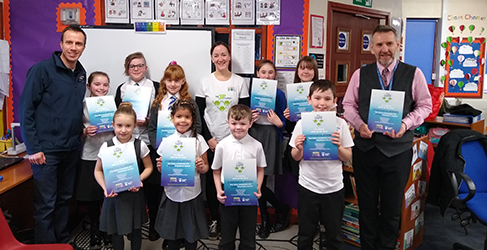 St John's RC Primary in Fife take the 3Ps pledge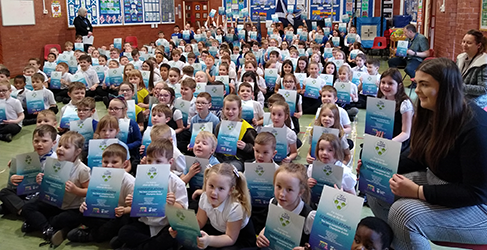 First class - pupils help tackle marine litter
"It has been so rewarding getting these important messages to so many youngsters, who were all so engaged."

Joanna McFarlane
Wild Planet Explorers
More than 1200 pupils across Fife have pledged to protect the planet by tackling marine litter and doing their bit to keep the sewers flowing freely.
Scottish Water teamed up with local environmental educator Wild Planet Explorers to deliver a series of free workshops to 1240 schoolchildren in Rosyth and Kinghorn.
All of them have signed up to the 3P Pledge - to not flush anything down the loo apart from pee, paper and poo.
The first of the schools which took part in the project, St John's RC Primary School in Rosyth, has completed all of Wild Planet Explorer's 3P Pledge Champion Award and the children received certificates to thank them for their dedication to the environment as new 3P Pledge Champions.
The sessions build on Scottish Water's Cycle Campaign, which highlights the damage that can happen to the sewer network when the wrong things are put down the drain. This includes bursts, external and internal flooding and pollution.
The fun and interactive sessions were delivered by conservationist Joanna McFarlane to pupils at various schools in Rosyth and Kinghorn (others were: Kinghorn Primary School in Kinghorn; King's Road PS, Camdean PS and Park Road PS in Rosyth).
She used colourful animal toys, music and games to bring her message to life for younger children while P5-P7's received an interactive presentation.
Each of these highlighted the impact of sewage-related items on wildlife in the seas and the importance of properly disposing of everyday things such as wet wipes, sanitary products and cotton buds which can block sewers and pollute the environment.
The P1 to P7 youngsters also learned about different animal habitats and how their actions impact the environment and shared what they can do to help including raising awareness of the issue of sewage-related marine litter to their families and friends.
All five schools taking part in the 3P Pledge Champion Award will, or have already completed a beach clean or local litter pick to help them further understand the link between their actions and their everyday lives and nature. Some of the schools have set up litter rotas or litter tidy groups.
Scottish Water and Joanna attended a school assembly at St John's to hand out certificates to every pupil and say thank you for their support.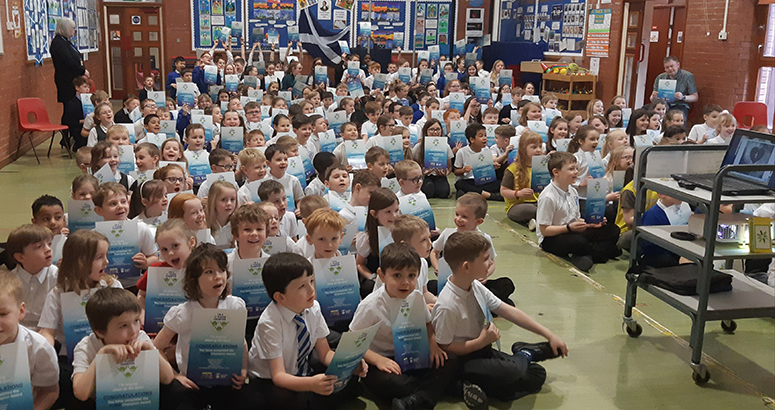 3Ps Workshops
Pupils at St John's RC Primary in Rosyth have received the Wild Planet Explorer's 3Ps Pledge Champion Award.
Headteacher John Hutcheon said: "Wild Planet Explorers workshops were a super, interactive and relevant experience for our whole school community.

"The children had fun learning about the dangers to our planet, especially our oceans and seas. From this we decided to engage our pupils and families in the 3P Pledge Champion Award and asked our parents to sign a petition to reduce the use of single use plastics.

"We believe the 3P Champion Award is a great initiative to run along with our Eco Schools Campaign. Sustainability is so relevant to our pupils if we are to protect our world and environments.

"We have also just been awarded our Green Flag too. It was super of Scottish Water to fund this project."

Joanna, who lives in Charlestown, said: "It has been so rewarding getting these important messages to so many youngsters, who were all so engaged and ended the sessions determined to do their bit to protect the environment.

"We know they have spread the messages they have learnt among friends and family too and who knows we may have inspired future biologists and conservationists or even the next David Attenborough."

Rosyth and Kinghorn were chosen for the project to help reduce the amount of litter found in the local sewer network. In Kinghorn this also coincides with the completion of a £700,000 project to help improve bathing waters.

Scott Fraser, Corporate Affairs Manager for Scottish Water said: "These fun and informative sessions have clearly made a big impact on so many children.

"They are a great way to get across important messages about what not to flush down the loo or out down drains to enable them to do their bit to protect the planet."

Scottish Water plans to continue to work with Wild Planet Explorers to help highlight its 3Ps message to more youngsters this year.