Perth's New Top Up Tap Leaps Into Operation
28 February 2020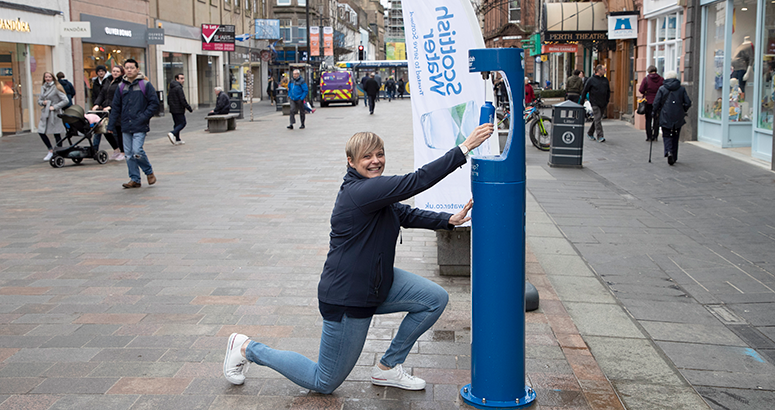 Leap of Faith
Make your leap year proposal to use a refillable bottle and top up from the tap on-the-go.
"This tap brings the supply of clear, fresh and great-tasting drinking water right to the heart of the city."

John Swinney
Deputy First Minister
The newest addition to Perth High Street is set to make it easier for residents and visitors to the 'Fair City' to top up refillable water bottles and stay hydrated on the go.
North Perthshire MSP and Deputy First Minister John Swinney was joined by fellow Perth MSP and Environment Secretary Roseanna Cunningham MSP, as well as representatives of Perth & Kinross Council, to get the tap officially flowing today (Friday, February 28).
The hi-tech tap, which digitally tracks water usage and records cost savings, is part of a nationwide campaign by Scottish Water which aims to get more people to carry a reusable bottle. Your Water Your Life aims to encourage more people to drink tap water on the go to stay hydrated, save money and protect the planet.
The Perth tap is the 22nd to be installed so far across Scotland. A total of 70 are set to appear all over the country by April 2021.
Mr Swinney said: "This new Top up Tap is a great addition to Perth's High Street. I hope people will make good use of it, whether they are using the city centre to shop, exercise or visit our outstanding cultural venues and hospitality businesses.
"The River Tay has always been at the heart of Perth and our community's story. This tap brings the supply of clear, fresh and great-tasting drinking water right to the heart of the city."
Director of Corporate Affairs at Scottish Water Brian Lironi added: "We want all of our customers to love their water – and to help us care for the environment that makes it available for us to use.
"Today is a particularly good day to bring a new Top up Tap to the fair city. Tomorrow, Saturday 29th February, is a day that traditionally turns the tables and offers an opportunity to make a special commitment.
"We don't normally make proposals, but why not make the leap to carrying a refillable bottle and topping up regularly with Scotland's world class drinking water?"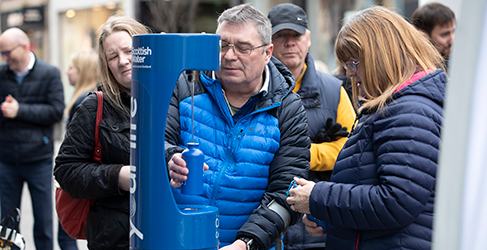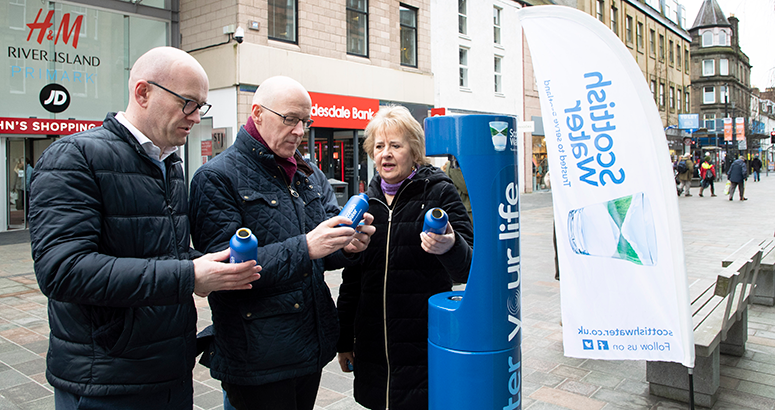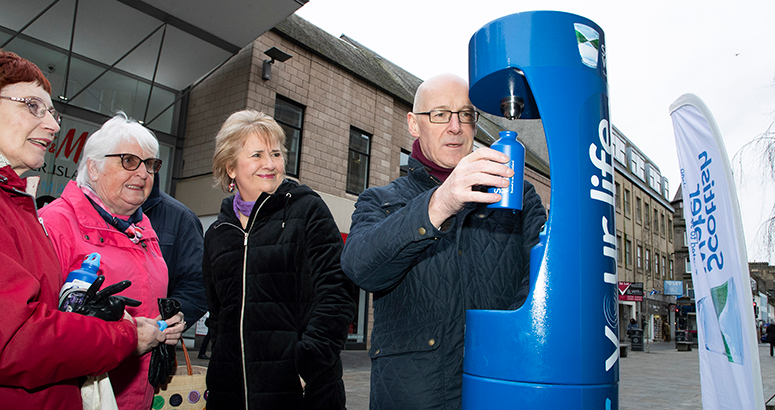 Fair City Tap
Deputy First Minister John Swinney and Environment Secretary Roseanna Cunningham helped launch new addition to the High Street
Cabinet Secretary for Environment, Climate Change and Land Reform Roseanna Cunningham MSP launched the first Scottish Water Top up Tap outside the Scottish Parliament in October 2018. Since then, new taps have appeared all over the country from Dumfries in the south to Lerwick in the north – and there are many more still in the pipeline.

Ms Cunningham said: "I'm delighted to have been involved in Top up Taps – a project which has been welcomed with enthusiasm by communities the length and breadth of Scotland.

"More and more people are carrying refillable water bottles and using them to keep hydrated – benefiting their health and saving money, while playing an important part in promoting the circular economy and nurturing our environment.

"It's great to have a Top up Tap now available in the heart of Perth – and I look forward to seeing many more appearing around the country over the coming months."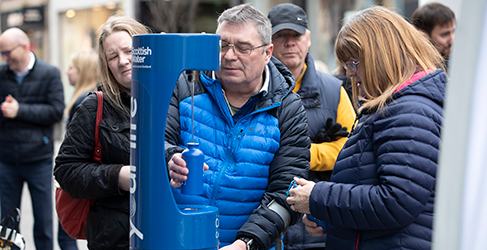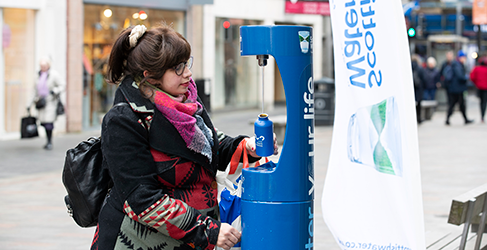 Perth & Kinross Council has worked closely with Scottish Water over recent months to support the Top up Tap's installation. Convener of the Environment & Infrastructure Committee at Perth & Kinross Council, Councillor Angus Forbes, represented the council at today's launch, together with ward members for Perth City Centre.

Councillor Angus Forbes said: "This is a great initiative that I am pleased to be able to support. It will make it even easier for people to conveniently enjoy the benefits of Scotland's tap water on the go. Using a refillable bottle is not only good for the environment, it also helps people to save money and stay hydrated.

"We're delighted to have this new facility on Perth's High Street, and we look forward to working with Scottish Water to encourage everyone to top up from the tap."

Since the first Top up Tap was launched in Edinburgh in October 2018, more than 55,000 litres of water have been consumed from Scottish Water's expanding network of Top Up Taps - the equivalent of more than 167,000 standard 330ml single-use plastic bottles.