£25 Million Investment in Peebles Water Supply
31 March 2020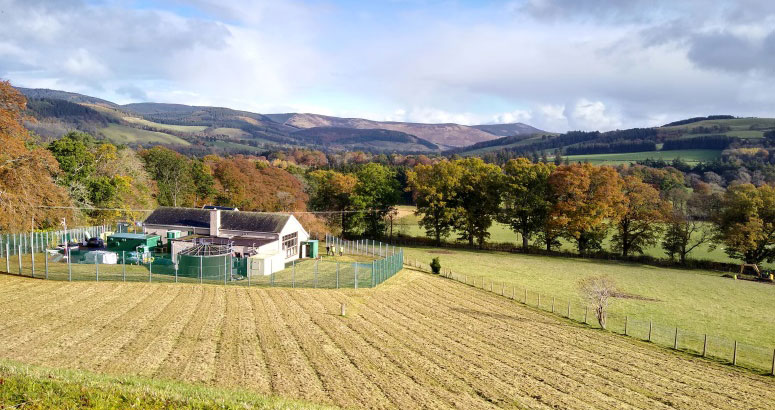 Peebles Water Treatment Works
Scottish Water has revealed plans for a new water treatment works that will serve customers in Peebles and Eddleston
Plans for a £25 million water treatment facility in Peebles have been unveiled by Scottish Water.
The utility has applied to Scottish Borders Council for planning permission to build the new works in the town to ensure it can continue to provide clear, fresh, high quality drinking water to customers in Peebles and Eddleston.
It plans to build the Water Treatment Works in the field to the south of the existing WTW on Bonnington Road, on the outskirts of Peebles. The new works will continue to be supplied by raw water from Megget reservoir, which is the current source for drinking water in the area.
Scott Fraser, Corporate Affairs Manager at Scottish Water, said: "Scottish Water wants to deliver a long-term, sustainable WTW that meets the needs of present and future generations.
"Peebles WTW, which we know as Bonnycraig WTW, was built in 1970's. It is now time to upgrade the works due to its age, as like most things in life the technology and equipment has a certain lifespan.
"We decided the best option to ensure continued high quality drinking water for our customers in in the area is to build a new works, rather than try and upgrade an aging works to modern standards."
The new works has been designed to allow for the development needs over the next 25 years and to have as little visual and environmental impact as possible. It will be supplied by an abundant source of raw water from Megget Reservoir
If approved Scottish Water hopes to start work later this year however this will depend on the Covid-19 virus. The utility will continue to work closely with water sector partners and follow guidance from UK and Scottish Governments and the NHS. Scottish Water's priority continues to be the provision of water and waste water services to customers and it is still progressing with plans for its vital investment work – which this site is. It has temporarily halted capital investment work at live construction sites.
The main process used by Scottish Water to treat drinking water involves passing the raw water through a series of membranes which filter out larger organic compounds while allowing clean water molecules to pass through very fine pores. The water that has passed through the membranes is then treated further to ensure it meets customers' expectations and is safe to drink from the tap.
Scottish Water has consulted the local community on the plans, including holding a public information event in Mcfarlane Hall in Peebles earlier this month which was attended by more than 40 people.