Conor McVey, Waste Water Modern Apprentice
01 April 2020
Scottish Water's vital role is to look after your water supply and remove and clean the water you use. E
mployees throughout the organisation are performing key roles working round the clock to deliver our services to you.
Some will be working very visibly in your area. Others will be doing jobs which mean although they are vital to ensuring the quality of your water and protecting the environment, you won't see them out and about.
To protect both public health and our employees we are following government guidelines on social distancing.
Here, we turn the spotlight on one of the key roles helping to maintain networks and keep the water flowing: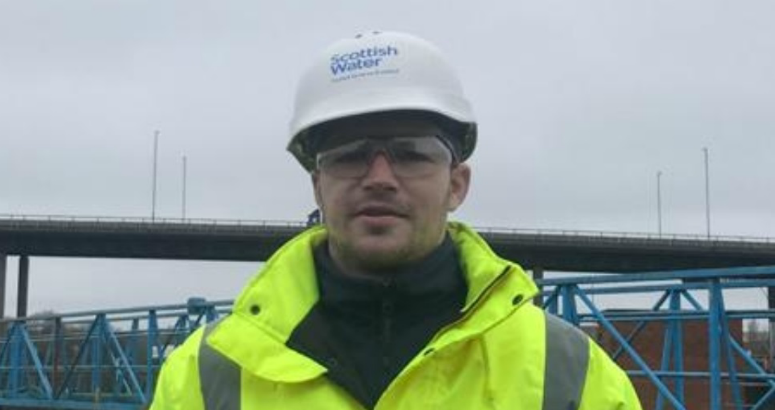 Meet Connor McVey
Conor performs a key role, working round the clock to deliver our services to you.
Speaking about his work role in this current climate, 25 year-old Conor from Simshill in Glasgow said: "As waste water operators there are many daily tasks we undertake which generally go unseen by the public but are crucial to enabling communities across the country to function normally – mainly dealing with our waste water or sewage while protecting the environment in local rivers. It's an essential job at any time and in any circumstances.
"Scottish Water has introduced measures during the coronavirus pandemic to ensure the safety of staff such as two-metre social distancing, separate break times for colleagues, and restricting contractors on-site to those carrying out critical jobs.
"Working during this time can be more challenging as some employees self-isolate if they or family members have become unwell. These guys are in our thoughts and we obviously hope they recover, but our work can't stop so those of us who are well just press on and get the job done.
"The overall workload remains the same but, with fewer staff available to carry out the work, every one of us is busier. Also, the social distancing means we can be working with little social interaction and that can be a challenge in terms of your mental wellbeing.
"But you try to be resilient and get through it, just like everyone else."