Customers Get WhatsApp Help During Covid-19
14 April 2020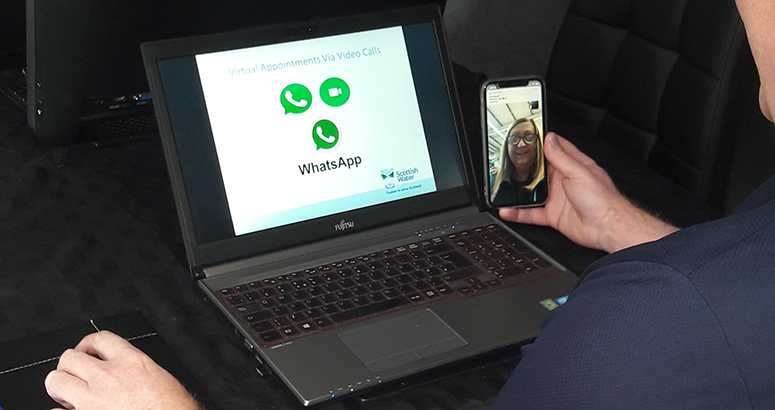 Virtual Help
Using WhatsApp technology helps keep customers and Scottish Water engineers safe during coronavirus pandemic.
"In these circumstances, customers have enough to contend with without an issue with their water, so we are delighted to be able to use social media to help them."

Sarah Prescott
Field Response Manager, Scottish Water
Scottish Water engineers are helping customers who report tap water issues by carrying out virtual inspections using the messaging platform WhatsApp to avoid the need for home visits during the Covid-19 response.
Workers in the utility's Field Response team based around the country are using WhatsApp video calls instead of face-to-face visits to customers' properties to resolve issues such as loss of normal water supply or low water pressure.
Using the WhatsApp video calls, where practicable and with the customer's agreement, means we can help customers who may be self-isolating with Covid-19 symptoms while avoiding face-to-face contact and so reduce the risk of contamination of customers and field staff.
The Field Response team respond to customers' needs after liaising with colleagues in our call centre at Fairmilehead, Edinburgh who take calls from customers across the country.
All of our more than 100 call centre staff are using platforms which enable them to work from home during the coronavirus epidemic.
One example of how well the WhatsApp video calls are working was when one of Scottish Water's Network Service Operator (NSOs) contacted a customer in Fife regarding discoloured water which was milky or cloudy.
On phoning the customer, the NSO carried out a video call using WhatsApp. On the video call the NSO was able to determine which tap in their property the customer was concerned about and then asked the customer to carry out a simple test by placing a glass of water under the tap to identify if the milky, cloudy effect would disappear from the bottom to the top of a glass.
By carrying this out, the NSO was able to identify that the cause was air in the water supply and give advice on why this may have happened. The NSO advised the customer that it might take a couple of days to clear and that we would contact them later to check if this was the case. Two days later, the NSO contacted the customer and the water was back to normal and the customer was delighted with the service and advice.
Sarah Prescott, Scottish Water's Field Response Business Manager, said: "Since the coronavirus outbreak, our Field Response team have started contacting customers through WhatsApp video calls to reduce the amount of face-to-face interactions we have with customers at a time when we are all being instructed to adopt social distancing practices to prevent spreading the virus.
"So far, about 15% of the hundreds of jobs that would have involved visits to customers' properties over the past couple of weeks have been resolved via WhatsApp, including video calls, so this has led to a considerable reduction in the number of visits we make to people's homes.
"We've been able to implement this quickly and the feedback from customers has been good because in many cases we have been able to resolve issues which have been causing them inconvenience at a time when they are self-isolating because either they or a family member has Covid-19 symptoms and are vulnerable.
"In those circumstances, customers have enough to contend with without an issue with their water, so we are delighted to be able to use social media to help them.
"Scottish Water takes its customer service very seriously and strives to maintain the same high standard of service at all times, including during the current crisis. Using WhatsApp is another way of enabling us to do so while protecting the health and wellbeing of customers and our staff."
Using WhatsApp also benefits Scottish Water because some of its staff are among those self-isolating with coronavirus symptoms, or live with someone who has, but are still able to work.
In addition, the move will help the utility gain an understanding of how it could use virtual appointments moving forward, with the benefits in terms of carbon footprint reduction that they will deliver.