Where There is a Will There is a Way
15 April 2020
Like most families in Scotland and beyond, Jimmy Will and Tracey Salmond have had to change their lifestyle during the current Coronavirus pandemic. The couple, who have a seven-year-old son and live in Thornton in Fife, are both key workers who are continuing to head out to work to carry out their different essential roles.
Tracey works in the newly created Coronavirus department at Kirkcaldy's Victoria Hospital. She worked as a theatre recovery nurse there before the current outbreak and has now been moved to the 'red zone' where she cares for patients of all ages being treated for the virus.
Jimmy is a treatment operator with Scottish Water whose job involves ensuring Fife's biggest water treatment works and all 12 of its reservoirs are operating as they should to ensure many thousands of homes are supplied with clean, fresh water.
He said: "It is fair to say our lives have changed a fair bit, but it is the same for everyone. With us both being key workers still going out to work our biggest concern was looking after our son, Bailey. Thankfully I have been able to rejig my working hours to fit in with Tracey's vital work at the hospital.
"I used to work during the day but now I work at night. It means I am at home every day to home school and do stuff with our son and when Tracey comes home – anytime between 430 to 7pm – I head straight off to work after I have my dinner and am not back until 2am or so.
"I visit one or two reservoirs a day to check the levels of water. I oversee all 12 in Fife, from Upper Glendevon right across Cameron Reservoir in St Andrews. I check for any leaks and make sure the site is clean and safe and well maintained and can open or close valves depending how much water there is to ensure there is enough water for our customers. Thankfully the nights are getting lighter which means I can do this in the evening before it is too dark."
The 50-year-old then heads to Glendevon Water Treatment Works in Dollar where he ensures the equipment - including pumps, valves, generator, solar panels and water generation turbines - at the site are working as they should. Before the current change in working patterns up to three people worked at the site at a time, now staff work just one at a time.
Jimmy said: "Working at night now has worked out well as it means we all work different hours now and are not working close to others. We wear PPE (personal protective equipment) as a matter of course at work anyway, which includes gloves and protective glasses, so that hasn't changed but we've been issued with hand and equipment sanitisers which we're all using lots and lots. We know everyone is concerned about the need to minimise travel to avoid infection spreading but we have an essential job to do - I know people appreciate that we need to maintain essential services for all of our customers to keep the water cycle running.
"I am lucky that I really like my job and feel pleased to do something I know is so important.. With more folks at home now we need to make sure more than ever they are getting the best water possible in terms of quality and taste for drinking and washing with and making sure there is enough for everyone. I am proud to play my part in helping make that happen – that is why I am happy to live off six hours' sleep at the moment."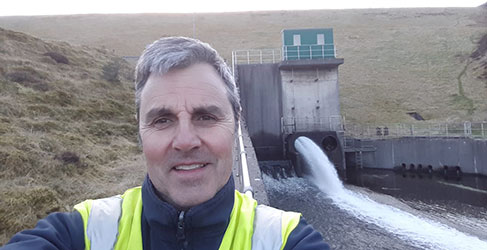 Jimmy is a treatment operator whose job involves ensuring Fife's biggest water treatment works and its 12 reservoirs are working as they should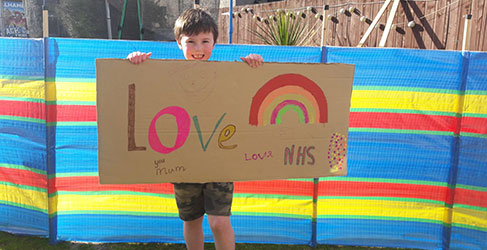 Jimmy and Tracey's son Bailey
Jimmy says his manager at Scottish Water was "delighted" to let him change his working patterns to enable him to carry out his work while also being able to do what was needed for his family. They also discussed how Jimmy would continue to be able to work as he is classed as "high risk" as he suffers from Crohn's Disease, which means he can suffer with an inflamed digestive system.
He said: "I have had Crohn's for ten years and take tablets daily for it and watch my diet and lifestyle. As I work alone and there are now no contractors allowed on our sites for health reasons it means I am not in contact with others at work at the moment so there is no issue. Like everyone who works on sites alone I use Scottish Waters lone working system, this means I check in when I attend somewhere and also when I leave so people know I am safe."
Jimmy says that while he "feels super lucky" seeing more of his son while he is off school and how he has now become the main cook in the family for the first time ever. It does mean he and Tracey, 48, are seeing less of each other but that their son is getting all the care he needs.
He said: "It goes without saying that the work NHS staff are doing is vital – they really are heroes. Tracey takes her work in her stride and it is good her mind is at ease knowing Bailey is with me while she is out on the frontline. It is quite scary thinking about where she works. We take comfort from that fact staff where she works are able to get tested if they show any symptoms and also they have full and proper PPE too for protection.
"The other Thursday evening when folk in our street took part in the weekly clap for the NHS a neighbour shouted to me they were clapping for people like me, the utility works, too to say thanks. I thought that was lovely, made my day. That and seeing Bailey beaming with pride waving flags while he was out clapping too – knowing both his parents were key workers doing their very different roles during these uncertain times."
John Griffen, Water Operations Manager at Scottish Water, said: "After home schooling his son, Jimmy comes to work and carries out the essential reservoir inspections and maintenance tasks his role requires. His work, and that of his partner Tracey, are great examples of how core services within Scotland are being maintained."